Bahrain is the overlooked jewel in the Middle East. Rosie Coxshaw travels to the country's capital Manama and checks in at the sublime Ritz Carlton resort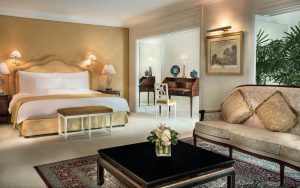 Day 1:
Travelling by night is always gruelling. The red-eyed slog is, however, sweetened considerably, when your end destination is infantilising in its luxury, as happily is the case at Bahrain's Ritz Carlton resort. I am met with breakfast by smiling and attentive staff as I perk myself up with coffee and my guide book. Sleep can wait; I am excited to discover the city on my first visit, not only to Bahrain but to the Middle East.
But first things first. I check in to my suite, which is on the Club Lounge level. It's sumptuous and well-equipped for work and relaxation. Firmly in the latter camp is the bathroom, which features a Jacuzzi-style bath with lots of seductive ESPA cosmetics, while in the former, is the handy mini office area. A perk of staying on the club level is that guests have unlimited access to the Club Lounge area. For families and those who prize space to spread out, the resort also offers private villas in the grounds, each of which is tucked away from the bustle of the main hotel and comes with a private pool and barbecue. Were the city not such a fascinating and historic place, there would be absolutely no reason to leave the Ritz Carlton, replete as it is with endless restaurants, many of which are garlanded with Michelin stars.
Night:
My first evening packs a culinary punch with local Bahrain ingredients with flavours via Mexico, courtesy of onsite restaurant, Cantina Kahlo. It's a perfectly convivial way to commence the holiday, with sharing small plates of street-inspired food that span salads, tacos and tamales alongside exceptionally good grilled meats and seafood so fresh it might have leapt straight from the two surrounding pearl-rich seas. Tasty but light, it's the perfect end to a long but wonderful day.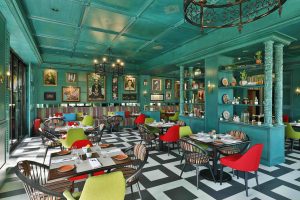 Day 2:
No rest for the wicked. By 9am I am breakfasted and ready for my city tour. The first stop is the Al Fateh Grand Mosque, the country's largest place of worship. I don an abaya (cloak) and join the crowds (it can hold up to 7,000 worshippers and visitors alike) to marvel at its scale and beauty. Featuring the world's heaviest fibreglass dome, its arches and symmetry are something to behold, as are its lavish marble floors and vast teak doors. But perhaps best of all are the people I meet, who are welcoming and forthcoming. I chat to a lady who discusses the history and culture of the abaya and I leave feeling both uplifted and better educated. But soon it is time to press on: Bahrain's rich history is calling, and duly we stop in at the Bahrain National Museum. There, I learn that that the country has always had a glittering past: the Cartier brothers were Bahrain regulars, having fished its seas for the pearls they used in their legendary jewels. They were not alone; for many, pearls constituted the local business until they found and even more lucrative natural resource: oil.
Onto the souk, which is rich with colour and life, as well as being stiflingly hot. A far cry from the rarefied world of the Ritz-Carlton, it is here, in old Bahrain, that locals come to buy their necessities. But, as with the world over, gentrification is creeping inexorably in; only a stone's throw from the souks, I drop in at a trendy café called Saffron selling traditional cakes, coffee and Middle Eastern breakfast: bread with humours, beans, salsa, omelette, sausage all in one go.  Delicious!
Night:
After my explorations, I unwind with a relaxing massage, followed by any other gastro-excursion across the continents, this time to Italy. Primavera, styled as a'trattoria moderna', offers thrilling new twists on traditional classics. At the pass is Oliver Glowig, who has two Michelin stars under his belt, alongside his brilliant chef de cusine, Vincenzo Nigro. Ingredients are local; service is completely Italian. So much so that, given its veranda and glistening sea views, it's easy to slip into thinking you're waterside in Capri.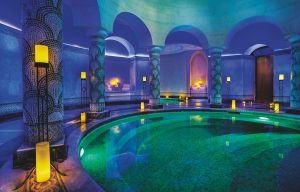 Day 3:
It's time to take a break from eating – and what better way than witha high-octane, adrenaline-fuelled tour of Bahrain's Formula 1 race track? I plump for the Land Rover experience; I clamber into my ride and am driven right into the heart of the Sakhir desert, where I am met with some 3.5 km of varying terrains. There are sand, rock, hill and water landscapes, with 32 natural and man-made obstacles, such as slide slopes, humps, rocks and gravel roads. Next it's onto the racetrack where the Grand Prix takes place. Sadly there are no sightings of Lewis Hamilton, but it is fascinating to see the drivers' pit-stops and their chill-out lounges. There are a multitude of experiences you can book into via the Bahrain International Circuit. I'm saving that one for Grand Prix 2019!
Night:
A dip in the pool sees me work up enough of an appetite for another of the cornucopia of restaurants at the resort. Tonight we travel to India courtesy Nirvana. The sultry, red décor is pleasingly atmospheric, while the open kitchen is spot-lit to provides both the drama and the extraordinary dishes. It's as good as theatre, but equally nobody could level charges of style over substance here; I tuck into the best Biryani I have ever tasted. It's a popular option for executive types too, as it offers a special business lunch menu (you simply choose between vegetarian and meat options) and the whole things arrives on a beautiful traditional thali. I chose the a la carte; as well as the Biryani, special mention must go to the Ehra Kari (Gulf prawns in a coconut sauce). Puddings are a revelation too; rose petal ice cream is a delicate delight, while traditional Indian sweets feature the right balance of sweet and spice.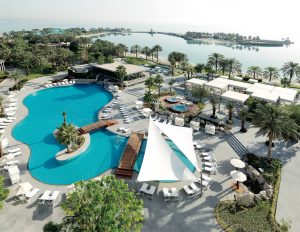 Day 4:
My final day in Bahrain serendipitously coincides with Breast Cancer Awareness month for which, every year, the Ritz Carlton throws one of its biggest parties on its own private island. It is a wonderful chance to sample the whole buffet, which features food from every restaurant in the resort (how else would one take the resort's culinary tour in its entirety without having to go up several dress sizes?) The jaw-dropping array of desserts, all of which are hand-made at the Gourmet Lounge, the hotel's very own patisserie, proves irresistible. But finally sated, it's time to shimmy across to the massive stage, where a DJ plays music until the early hours with the backdrop of the sea, beach and hotel.  It is unforgettable – as are the friends I have made here.
WORTH KNOWING:
The Ritz Carlton is one of the only 5* hotels in Bahrain. If you can, do book in; Bahrain really knows how to do luxury.
Gulf Air is one of the main airlines flying to Bahrain. Flights tends to be late night or early morning.
Bahrain is hot! To avoid the sweltering heat, visit around March or October and avoid July and August when temperatures are over 100 degrees and humidity is 100 per cent.
Bahrain is liberal, but outside of your hotel, women should always have something to cover their arms out of respect.
DID YOU KNOW:
Bahrain translates as 'two seas'.
Bahrain is one of the most liberal countries in the Middle East.
Bahrain was the first place in the region to strike oil.
The white in the Bahrain flag represents the pearls; red represents the cloth trade.
Bahrain is the place fish for fresh sea pearls.
For mor info & to book visit: www.ritzcarlton.com