Here are three culinary colossuses, three sparkling, star-bating new restaurants: London's gastro scene is hotter than ever. Alexander Larman tucks in…
#1 Roganic
5-7 Blandford Street, London, W1U 3DB; roganic.uk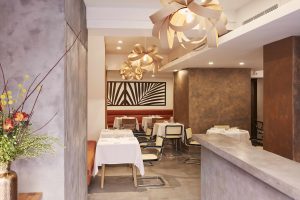 Simon Rogan has a reputation for being a chef's chef, and it isn't hard to see why. Not for him the easy trappings of the three-course a la carte, but instead Rogan offers a searching journey into what food can (and perhaps should) taste like. If this sounds offputtingly intellectual, rest assured that his return to London with the resurrected Roganic (after a successful two-year stint as a pop-up) is something very special indeed. Superb food, excellent service and a carefully thought-out concept makes for a thrilling experience.
Rogan (aided here by his excellent head chef Oliver Marlow and peerless GM James Foster, a veteran of L'Enclume) has constructed a regularly changing menu which can be had in three forms: an abbreviated lunchtime version, a six-course tasting version and finally the full behemoth. It's worth saving one's pennies (£115 per head before wine) for the extended version, as that allows you to savour the full symphonic grandeur of Rogan's culinary art. Just as one might expect to hear recurring leitmotifs in a great opera or concert, so fascinating ideas and concepts reappear throughout the meal. Special mention must go to smoked raw beef in kohlrabi, a remarkable salt baked celeriac and burnt milk with blackcurrant and yoghurt, but there is not a dull thing on the menu.
This is food as theatre, or opera, and should be regarded as such. The chefs come out bearing the food, a nice touch that makes the whole experience seem more personal, and the more than able duo of sommeliers offer some fine pairings, including a memorable Austrian natural white wine and a beefy Barolo to accompany the duck. If you want something simple, Roganic might not be for you, but if you're excited by the possibilities of a great contemporary London restaurant, it is unmissable.
#2 Kerridge's Bar and Grill
Corinthia Hotel London, Whitehall Place, London SW1A 2BD; corinthia.com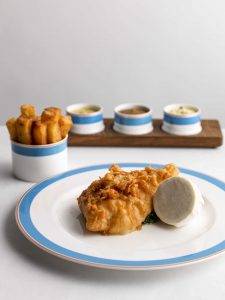 It's probably the most anticipated restaurant launch in London since Heston Blumenthal opened Dinner at the Mandarin Oriental in 2011. But Tom Kerridge has built his reputation on something quite different to Heston's molecular gastronomy; honest, gutsy food that just happens to have won him multiple Michelin stars. And now he's pitched up at the Corinthia hotel, with Kerridge's Bar and Grill. So, how does it fare in a city that has recently seen its share of big-name chefs tumble and fall?
The answer, judged by the packed David Collins-designed room on a Tuesday evening is 'very well indeed'. Kerridge has tweaked and adjusted his menu for a London crowd, but the highlights here are incendiary. The lobster omelette starter is an exceedingly steep £28 a portion, but it is very, very good, and the rotisserie-roasted rib of beef, complete with triple-cooked chips, is the sort of thing that those people who visit restaurants with smartphones aloft will be making a thousand Instagram posts about. There's not a duff dish in anything we try. Crab vol-au-vent defies its slightly naff description to challenge and delight; my companion's loin of venison is gloriously untamed and the stuff of a country gastropub – such as Kerridge's two-Michelin starred Hand and Flowers – rather than an expensive and glossy London restaurant. Puddings are exemplary, in particular the raspberry and geranium trifle. If one had to have a last meal, this is the place that one might well pick.
Wines are excellent, and priced accordingly. We stuck with English for the sparkling (Ridgeview Cavendish) and the white (Stopham Estate Pinot Blanc), but then went rogue and tried the legendary Lebanese Château Musar. But then everything here is the choice of the sophisticate. London has a new destination restaurant, and one has no option but to embrace it.
#3 Hide
85 Piccadilly, London, W1J 7NB; hide.co.uk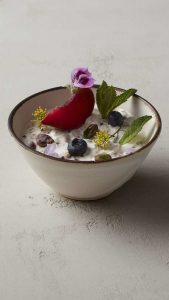 The most ambitious and epic restaurant opening in London in years has graced Piccadilly in the shape of Ollie Dabbous' Hide. It's a three-storey behemoth that incorporates two restaurants, a bar, private dining rooms and all sorts of other Easter eggs that include, by repute, its own car lift, so the mega-celebrities who have already started visiting can segue neatly into their meals at the fine dining part of the establishment, Above. We visit, on foot alas, to see what all the fuss was about, one Tuesday lunchtime; we were not disappointed.
Dabbous made his name at his eponymous Fitzrovia restaurant, but the feel here is much more classical, in line with his great mentor Raymond Blanc. The three-course set lunch is already well known as one of London's best value offerings; at £42, this includes a comprehensive selection of canapés and extras to start the meal off with (including the splendidly named 'flesh and bone') and some delicious petit fours. One certainly won't be leaving hungry.
As for the dishes themselves, there is inevitably the sense that one is sampling a taste of the menu, rather than the full extravaganza, but everything that we eat is stunning. Beetroot tartare and pearl barley risotto titillate, and then crab served two ways and veal rillettes delight; wine pairings, including fabulous Albarino and silky Pinot Noir, show the excellence of the cellar (famously put together by Dabbous' business partners, Hedonism Wines up the road in Mayfair). Service is surprisingly friendly and accessible, although consistently correct; nobody would mistake this for a Dalston pop-up, not least because the epic staircase and scope of the restaurant make this feel substantial and weighty.
Perhaps it won't be to everyone's taste, but Hide is offering something impressive, delicious and hugely enjoyable. And all this at a price, at lunchtime at least, within a reasonable budget.