Led by Simone Biles, the US gymnastic team have won Gold at this year's World Championships in Qatar. This is the fourth year in a row that they have swept the boards and the team is now guaranteed a spot at the Tokyo Olympics in 2020. This win follows an unbroken streak of Gold medals, begun in 2011, that has seen the women's gymnastics team secure the top spot in every Championship and Olympics that they have competed in.
The team is made up of incredible athletes, including Morgan Herd, the current World Champion, and Simone Biles who returned to compete after taking a year off from international competitions. As expected they achieved fantastic results. Despite Biles tripping up in floor exercise she still achieved first place by nearly a whole point and Heard placed amongst the top competitors in each event she competed in. Newcomers Grace McCallum and Kara Eaker also proved themselves, with Eaker coming in second to Biles in the balance beam.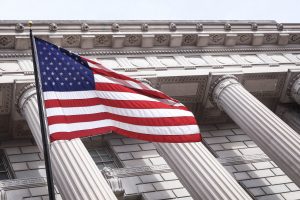 History was also made by Biles this year. She has become the first woman to ever win four All-Around World Gymnastics titles, taking the lead from Russia's Svetlana Khorkina, with whom she shared three titles previously. The American gymnast now holds twelve world titles and fifteen world championship medals.
Following the team win, Biles said, 'I wish I could have put out a better performance because that's not the gymnast that I am… but we all make mistakes and fall. It's just how you get up and prove yourself.'