Defence Secretary Gavin Williamson has stated that women will now be permitted to join any combat role in the army. This announcement follows the lifting of a ban on women 'serving in close combat units in the British Military', a change that was made in 2016 by the last Prime Minister, David Cameron who said that the change would be 'phased in'.
Williams said, 'the armed forces will be determined by ability alone and not gender… we constantly have to evolve and change and that's what we're doing today… it's vital that we give everyone in this country the opportunity to join our armed forces and play a full and proper role. We've seen in so many conflicts around the world the role women can play and this is why we are opening it up…'
The decision means that as long as female recruits pass all of the compulsory training, they will be permitted to join special units including the SAS (Special Air Service), frontline infantry and the Royal Marines. Historically, women have served in support roles on the front lines but were unable to take part in combat. There are currently about thirty-five women who are either training for and/or have passed the relevant tests needed for the Royal Armoured Corps.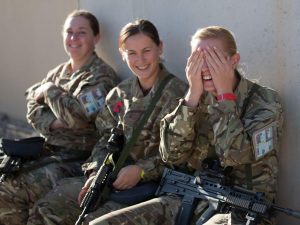 The Defence Secretary also stated that, 'Women have been involved in frontline activity in so many ways for so long. You've seen women serving alongside men in Afghanistan and Iraq. They have been part of the team. The idea that we're excluding half the population for some of these vital roles potentially holds our armed forces back.'