Arctic Lake are Emma Foster, Paul Holliman and Andy Richmond. The trio met over a shared desire to composing emotive, atmospheric music whilst studying in London. After releasing their debut single Limits, in 2015, which was introduced by BBC Radio 1, they gained fans in Elton John, Huw Stephens and Annie Mac. From there the band forged a consistent path of single releases before closing 2016 with the release of Heal Me, consecutive EP releases soon followed in 2017 (Closer) and 2018 (What You May Find), leading the band into mature songwriting territory. We caught up with Emma from Arctic Lake…
What does your work entail?
I am the lead singer of Arctic Lake, I write, perform, create – we are an independent band so we deal with all aspects of the music industry, all social media, every meeting, photo shoot, the visuals, the project planning – it's beautiful and rewarding and I consider myself extremely fortunate!
Where did you grow up?
I grew up in Lincolnshire, around a place called Boston. It was beautiful growing up in the countryside and the music culture that existed there helped me in every way but the towns there have their problems like many parts of the north, it's underfunded, and the education sector has a lot of problems. Diversity is not celebrated the way it should be and I found that difficult when growing up – that being said a lot of events and people that I encountered there shaped me and inspired a lot of our music so I view it with mixed emotions.
What's the biggest challenge you face as a woman in the music industry?
I think overall it's the sexism that exists, we've been socially conditioned to a point that we don't even recognise a lot of it. The pressure on our appearance, to conform or rebel against the stereotypes and the figures in place that we've grown up aspiring to be can be really conflicting. It's the adversity that opposes change that we must fight against. It can feel lonely at times but I am so grateful to live in an era where change is happening, awareness is being raised and change really feels possible and attainable.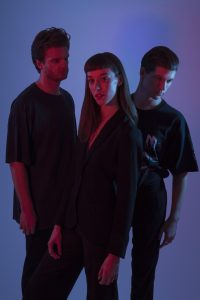 How have you learnt to overcome this challenge?
In all honesty I'm still learning, it is something you have to understand and it takes experience and education to fully comprehend everything you encounter. I'm also still learning how to handle everything, I think as I mature I'm becoming braver and more confident in myself but I'm still growing, as we all are.
What keeps you creative?
Life in general keeps me creative, I find inspiration in people mostly, their interaction, how they deal with their thoughts and emotions but also nature, culture, space – I try to draw upon everything I see and learn but often it's just this internal desire to create, I've had it for as long as I can remember.
The biggest highlight of your career so far?
There have been some incredible moments and truly surreal experiences with radio, syncs and feedback from people we admire  but without sounding cheesy the highlights are our shows and the fans. At our last London headline show we played this unreleased song that really hurts me, it was our first time performing it, I got to the first chorus and started crying – I've never felt so embarrassed and I couldn't continue – the crowd just started cheering and clapping and I've never felt safer it was amazing, I felt so thankful and I always will.
How do you think women can make a mark? 
I think women have already made a mark but we can do more – the disparity within the industry exists and we have to fight to create equality but that requires education to fund these topics and subjects, it requires role models in all areas to be raised up and seen and we need to show the younger generation that it's possible and that they can achieve things that before have felt invisible or unattainable.
What is your main source of income?
My main source of income in via streaming platforms, it's an evolution within the industry that has enabled lots of musicians to succeed independently and on that basis I think it's amazing. I believe the streaming platforms will continue to grow, diversify and innovate so I can only hope that we grow with that.
What would your advice be to aspiring artists?
My advice would be that you must find determination and commit to it, hold on to it, this industry is difficult and you must prepare yourself for that but mostly I would say experiment, create and don't hold back. Be unique because that is truly what sets you apart from others, be brave.
What do you define as success?
I have always had the biggest dreams but if I'm completely honest I just wanted to wake up every day and be able to do what I love and so that is how I define success. Not by huge wealth, assets or fame but by happiness.
What drives you?
I've always had this unwavering desire to sing, write and perform. I'm not the loudest of people and I often think it's my way of communicating everything I find hard to say and a way of reaching other people. Aside from that, my friends and family, I have an amazing support system in them and they are definitively a huge part of why I do it.
What are you passionate about in terms of women's rights?
I'm passionate about women's rights, period. All human rights, I want the same as everyone I hope, peace, happiness and kindness; compassion, these are all things that we should all share and I think that's why we fight so hard for equality.
What does the future bring?
That's a good question! Can you tell me?! I hope it brings all the above! More shows, more songs, more fun and lots of laughs! In terms of the band… we've got plenty of new music we will be sharing this year, we have a cover song out today for IWD, a new single out next Friday and an upcoming tour starting at the end of March!