Alexa has over 100M+ views & 1M+ social reach, secured syncs in Geordie Shore, The Only Way Is Essex & Eastenders, been supported by BBC R1, 1xtra, Capital, Channel 4 & worked with the likes of Ester Dean.
Tells us what your work entails?
I'm a singer, songwriter and performer, so my work entails spending time in the studio, writing, recording, creating content for social media, and performing live of course – that's my favourite part!
Where did you grow up?
I grew up in a super small town on the border of Surrey and Hampshire.
What's the biggest challenge you face being a young woman in the music business?
For me, the biggest challenge as a woman in the music business is getting the right balance between real life and what I think people want to see/hear. Social media has been and still is a huge part of my career, and it gives us the ability to share whatever we want with the world. However, I think it's desperately important to be aware and sensitive to how people will receive what you choose to share. Instagram is a highlight reel of people's lives, not necessarily the behind the scenes or a truthful reflection of what their life is. As humans, especially women, it can be so easy to compare ourselves to others, and not feel like you're good enough. I love to share my fun, exciting experiences, but for me it's vital to share the challenges, and the vulnerable side of me too.
How have you learnt to overcome this challenge?
I'm still learning. Just like millions of other women, I struggle with self confidence in all areas of my life, but by being honest and open about it, I believe we can help and encourage each other to overcome our challenges.
What keeps you creative?
My brain never switches off. I'm always listening and always learning. I find inspiration in everything, and this helps to keep me wanting to create. The last 5 years have been extremely difficult for me due to losing both of my parents, and it's experiences like this that encourage me to dig deep and find creativity in heartache as well as all the positive things.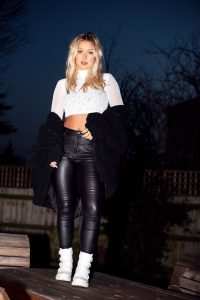 As a music artist, what's the main source of revenue stream to sustain your business? How do you think this will grow/change in the future?
At the moment, my main source of revenue comes from monetisation of social media content and streaming platform revenue. But the main income stream for any artist is always live, touring, and endorsements.
Tell us about the biggest highlight of your career so far?
This is a tough one as I've been lucky enough to experience some great things. Selling out my first headline show was pretty special! Opening the main tatage at Wireless Festival a few years ago was also a highlight. But I have to say, achieving an independent top 20 single in the UK has to be the winner. Oh, and Beyoncé complementing me on my shoes at a party once!!
How do you feel women can make a mark in the music industry?
We already have. Us girls are killing it as artists. It would be great to see more females in exec positions within labels, but I have no doubt that's to come!
What advice would you give to other aspiring artists?
Always believe in yourself. This industry is tough as f**k, and at times you're confidence will get knocked, you'll doubt your ability, and you'll question your career choice, but if you really really believe in yourself, then nothing is unachievable. Don't try to be the next somebody else, be the first you.
How would you define success?
For me, success is having the freedom to do whatever the hell you want and love doing it.
What drives you?
When I think about how music makes me feel, the thought of me being able to make other people feel a certain way is what drives me. Being able to make someone smile, laugh, cry, or connect with my music in some way, that's what it's all about.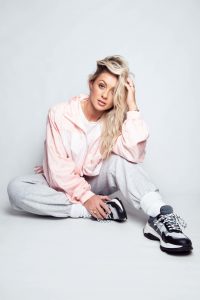 What are you passionate about in terms of women's rights?
Equality. Things like the gender pay gap make no sense to me. Why should somebody be paid less just because they have a vagina, when they are equally as qualified (and sometimes better) to do a job than a man. Regardless of gender, it's about us all having the same rights.
What does the future bring?
Who knows? But I'm more excited than I've ever been. I've been working for the last few years on some music that I'm unbelievably proud of, and this time it's me. No label opinions, no being told what to do or who to be. Just making music I love and sharing it with the world.