TV programme Love Island is stirring more heat than just the relationships sparked, as ITV are being blamed by the Mental Health Foundation (MHF) for showcasing adverts alongside the programme which are 'capitalising on young people's insecurities for commercial gains'.
Following a letter written by MHF's CEO Dame Carolyn McCall and the Culture Secretary Matt Hancock to ITV, they stressed; "strategically placing cosmetic surgery adverts during programmes that target young adults and paint a false picture of perfection is not only patronising but is adding to young people's insecurities and contributing to distress among vulnerable people"  describing the adverts as 'unacceptable' and demanding they be pulled.
It appears the MHF are not the only organisation to push for relevant adverts to be banned as the British Association of Aesthetic Plastic Surgeons (BAAPS) has called for a full ban on advertising for plastic surgery.
Former BAAPS president and plastic surgeon Douglas McGeorge said advertising such procedures during a show watched by "vulnerable" and "impressionable" people, namely those aged under 18, was "totally inappropriate". He continued; "Love Island is a bit of titillation and if it keeps people happy that's wonderful, but to say that what viewers are seeing in the show is normal, and then show adverts selling aspirational services to achieve that norm is wrong."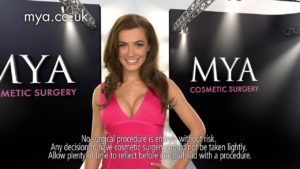 The chief executive of NHS England worries it spreads even further to the advertisements around it.
Speaking to the BBC's Andrew Marr Show, Simon Stevens raised concerns about seeing trailers for cosmetic breast surgery during the ITV2 show. He claimed the images were "playing into a set of pressures around body image", leading to young people needing mental health services.
A spokesperson for ITV said: "ITV takes its responsibility to viewers very seriously and ensures adverts broadcast during our programmes adhere to the The UK Code of Broadcast Advertising's rules on the content and scheduling of advertising." Mya, one of the cosmetic surgery firms whose adverts have featured during the programme, said in a statement: "We see Love Island as an adult-focused show with adult content."