Fatma Samoura is the most powerful woman in sport*, being FIFA's first-ever female Secretary General.
Since starting her United Nations career in Rome as a senior logistics officer with the World Food Programme in 1995, Fatma Samoura has served as country representative or Deputy Humanitarian coordinator in seven countries including, Republic of Djibouti, Cameroon, Chad, Guinea, Niger, Madagascar and Nigeria.
In June 2016 she assumed the role of FIFA Secretary General responsible for overseeing the commercial and operational side of the organisation. She replaced Jerome Valcke, who was implicated in corruption.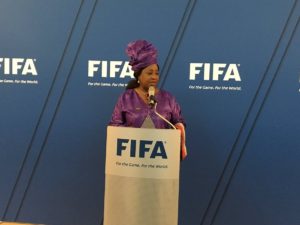 Samoura believes that football can change the world. While addressing FIFA's 2018 Conference for Equality and Inclusion, she recalled working in Africa during the first Liberian civil war.
"The only moment when people would stop fighting and receiving orders from the warlords was when it was raining or when they were playing football," she said. "You cannot simply ignore the power of a sport that sparks the passion of so many millions around the globe."
"My appointment in 2016 was a very strong signal that FIFA, a male-dominated organization, was opening itself to more diversity. For some good reason, it has not been an isolated case because we now have a much stronger women representation at all levels of FIFA administration."
Samoura's leadership has helped empower women and youth, change lives and protect the environment and it's this path she is following whilst spearheading the FIFA Forward programme. The Forward Programme provides member associations with financial investments from FIFA, and the increase in the number of women within FIFA's administration, going from 32% in 2016 to 48% is showing signs of progress.
*No 1 on Forbes list of the Most Powerful Women in Sport