Following her marriage to Prince Harry, Meghan Markle has chosen to support a charity working towards the empowerment of Indian women, who have for years been discriminated against, due to the culture, surrounding their periods. When menstruating many women are shunned and do not have access to sanitary pads or decent hygiene, particularly those born in poverty. The Myna Mahila Foundation combats this by 'employing women from urban slums to manufacture and sell affordable sanitary pads back into the community', providing employment to the local economy as well as knowledge and usable products.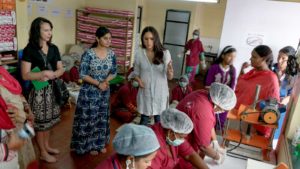 Further afield, Indian women are revealing themselves to be the country's upcoming entrepreneurs and business leaders, thanks to a new initiative led by GoDaddy, 'the world's largest cloud platform dedicated to small, independent ventures'. With 18 million customers, GoDaddy simplifies the process of accessing the internet, providing their customers with the tools to build their own website. By creating this access point for start-ups and entrepreneurs the platform connects people to their target market, becoming a vital tool in company development.
Gender discrimination in the workplace in India needs a lot of work, with the Mastercard Index of Women Entrepreneurs ranking India at 52 out of 57 countries included. The report indicated that limited access to financial support for Indian women both privately and in the corporate arena impacted the results. So too did the effect of cultural issues. This considerable gender bias significantly affected the MIWE score.
The GoDaddy initiative, however, has seen young women step forward into the limelight.  Managing Director and Vice-President of GoDaddy India said the company had found that 'women [are] more forthcoming and eager… to learn new digital skills'.