Angel Sinclair set up Models of Diversity in 2008, a charity that lobbies for representation of plus-size, disabled and ethnically diverse models on the runway. This champion of the under-represented is driven by the desire for equality and to help others, an urge that stems from her own, often troubled past. By Nancy Larman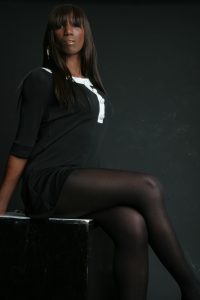 Whether he knows it or not, Gok Wan was the catalyst that rerouted Angel Sinclair's life – already eventful – towards the philanthropic. It was 2008, and she had just appeared on the champion of real women's purportedly shocking pre-watershed show, Miss Naked Beauty. And although the experience did not ignite in Angel a newfound desire to disrobe publically on any regular sort of basis, it did place her somewhere she would otherwise not have been: in a position to observe the inner, often far from beautiful, machinations of the fashion world.
"It was around the time that the size zero thing was at it's worst. From being on that show and around other women of all shapes and sizes, I wanted to make a difference. I wanted to talk about diversity, and I wanted my questions answered. So I decided to start up a campaign called Models of Diversity." She has recently upgraded it from a non-profit campaign to a fully-fledged charity, whose estimable mission is to give platforms – and crucially work – to models cut from a different mould than those who typically grace the pages of fashion magazines. In a happy case of nominative determinism, she is both advocate and angel to those with dreams of modelling who have disabilities; are older; or of ethnicity underrepresented on the catwalk. It is an initiative that not only helps fulfil ambitions, but which is also changing public perceptions by giving models who don't fit the standard look a public profile.
As she explains, "I wanted to know, where were the black models?  Back then, you hardly saw them at London Fashion Week or in magazines. The only person anyone knew was Naomi Campbell. I was intrigued that there were no disabled or plus-size models on the runway. Why was that? When a lot of the women in England are a size 14 – 16. Why weren't the consumers being represented? I needed answers."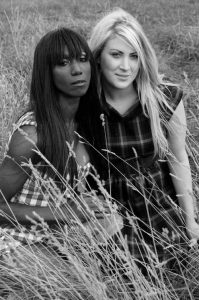 Dauntless and determined to get them, she tackled the British Fashion Council by staging a protest outside London Fashion Week. "It was very productive, because the CEO, Caroline Rush, invited me in to have a discussion. Today we have a good relationship, and she's always been supportive. She said it wouldn't happen overnight, but she listened."
In an industry so fundamentally set on marching forward with the seasons, why does she think that change is so slow to come? "People like to blame the modelling agencies," she says. "But they are given a brief before the shows about the type of models designers want. If they want all Caucasian models between a size 4 and 6, they follow that brief. It was difficult for agencies to place models who were different. They were signing black models, but there was no work for them. So I say let's start with the designers. They're the ones dressing these models."
Despite industry reticence – a picture which, thankfully, Angel notes is gradually shifting – Models of Diversity has had notable successes. "We wanted to push disabled models because they were not featured anywhere. There was a show called Britain's Top Missing Model and the winner was Kelly Knox. She got signed but then her agency went bust. She was the first disabled model we worked with. Then we got Jack Ayres and I started to approach New York Fashion Week and LFW to see if I could get placements for them. Kelly is now a model for Primark –she's everywhere. But it's a slow process. The only big agencies I know who have signed disabled models are IMG in the States and Milk Model Management in the UK. That's huge and it's progress because it opens the door for others. But the other agencies are very polite and listen to what I say, but it's still not happening."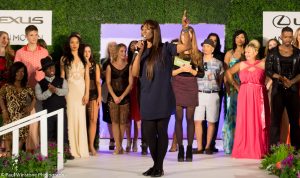 Angel is a great believer in keeping doors open. She never turns people away; anyone who comes to her walks away with a spread sheet detailing everything they need to know. Anyone who still wants to model is told how to have pictures taken: MoD even has a relationship with photographer, James Lyons, who donates his time to photographing anyone with potential. Models of Diversity then approaches agencies and magazines. "We live in a diverse society, we need to see it on the runway. These high street brands and designers need to remember that. They're willing to take consumers' money but they're not willing to represent them. That needs to change," she says.
That anyone should have taken the idea for MoD and run with it in so focused a fashion would be impressive. But Angel's trajectory has been so steeped in grief, hardship and rejection that it makes her determination to represent the unrepresented both more commendable – and somehow inevitable. One of her early memories, at 7 years old, is of two police officers coming to the family's door in Buckinghamshire to deliver the devastating news that her father had been killed in an accident. "I know today that it affected me very badly," she reflects. "To hear that your dad is not coming back and seeing my mum heartbroken… She was only 26 and we'd only recently moved into a new home when she became a widow with two small children. I always felt like after my dad died, my life ended. I carried that with me for years."
The aftermath was a difficult childhood; one in which she acted out her pain at school and got little affection at home. "I was always told about the things I didn't do right, never the things I did. I always felt ugly and I grew up feeling unloved. It scarred me, because I internalised it. I desperately wanted my Mum's approval but I realise now that's just not how she was made."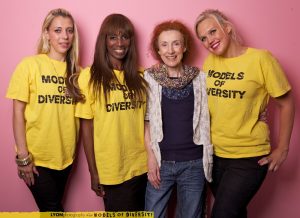 By 16, she was pregnant by a much older man, a decision she consciously took as she knew that she'd be thrown out and "to me that signalled freedom". But it also spelt homelessness and, later, domestic abuse. "By the time I turned 18 I was in a women's refuge with my child, because I suffered domestic violence. I started self-harming and I ended up seeking psychiatric treatment. I didn't know what I was doing."  She re-married quickly, but her new relationship was, she soon learned, no panacea. "We were very young and he was not faithful. He left and I had a breakdown. I remember going to Tooting Broadway station with my daughter in the buggy. I'd had a difficult conversation with my Mum, and I was scared about spending Christmas on my own with two kids. I was bawling my eyes out and, I'll never forget, a woman put her hand on my arm and said, 'Can I talk to you?' I broke down. I told her about my mum; about my husband; my whole life story. I was 20. She contacted social services andI admitted to my wonderful social worker that I wasn't coping. I went into a psychiatric unit and stayed there for two months. My two children went into foster care because I didn't have family to take them. I got help and I was reunited with them as soon as I came out. But then I became actively bulimic."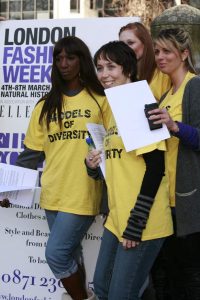 Her weight having rocketed up, she was soon taking up to 100 laxative a day (a tactic she'd heard about in group sessions at the psychiatric unit); the place she fortuitously got at the Promise Recovery Centre would save her life. "I will be forever grateful. I learned there that it was about my emotions. What I was doing was finding a way to numb myself. Putting the laxatives through my body, I purged those emotions. I had lived my life up to that point in a numb and unstable state. I've pinpointed, through therapy, that that traumatic experience of my father dying, that's where it started. And those feelings of being unloved and isolated, that was where it was at for me."
Having carried shame with her for so many years, she knew that something had to give – for her children's sake. "When you have an addiction, you don't think about others because you are consumed with self. The way I do my service now is by telling my story. I worked with Refuge for 12 years, volunteering as a counsellor on their helpline. And I want to help people with eating disorders by telling my story. I'm not saying you'll get better overnight. But there is help out there. That is all that I want to do."
Her charity feeds into this burning raison d'etre. "I was always told, 'no you can't.' I had dreams as a kid and I was always laughed at. If anyone has a dream, I'll feed it in any way possible."
modelsofdiversity.org