A blog post published by Swim England in 2010 has resurfaced this week on social media. The article included guide and tips with the aim to help women choose 'the right' swimwear and for this has been widely criticised for body-shaming. The advice was found by PHD student Simone Webb, who shared screenshots across social media that soon went viral across the Internet. Understandably, given the awareness of body acceptance that has emerged over the past eight years, Webb described the article she found as 'genuinely shocking' and sexist.
Amongst many dubious suggestions, the post encourages those with a 'jiggly belly' to cover themselves up as, 'trying to squeeze into a one-piece will not slim your stomach, only emphasise it'. Slim women with 'boyish figures' were advised to 'avoid boy shorts and low leg briefs. Try push-up cups and twisted bandeaux to enhance your cleavage.' It also declared that 'the pear-shape has often been the plague of women, but it no longer needs to be so', implying that this 'problem' could be solved by following the recommended advice.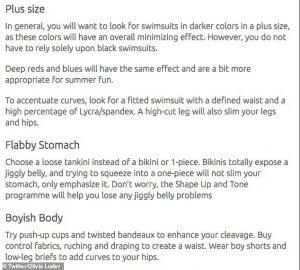 Reactions to the post have overwhelmingly agreed with Webb's opinion, who said that, 'This is material that @Swim_England is publishing on their website designed to encourage people to take up and enjoy swimming. Material which very explicitly tells women that their bodies ought to look a certain way and that that's the primary aim of a swimming costume… nothing to do with athletic performance or comfort'.
The national governing body for the country, Swim England have responded by removing the post and issuing an apology. A Spokesperson said, 'This was an old web page from 2010 that does not represent the views of Swim England. As soon as it was brought to our attention we removed the page and are in the process of replacing it with more appropriate information. Swimming is one of the most accessible activities for people of all ages and abilities. We want everyone to feel comfortable in the water and apologise for any offence this old information may have caused.'