Female scientists, engineers, mathematicians and women in tech have come together to create 'She Can STEM' to inspire young women and girls 'to feel confident stepping up and taking an interest in STEM'. STEM is an acronym for Science, Technology, Engineering and Mathematics. The campaign aims to 'give visibility to women currently dominating the world of STEM so girls can see they have a future in it too'. They say that 'outdated stereotypes' affect young women's interest and confidence in the subjects, so their hope is that She Can STEM will encourage young women aged 11-15 to nurture their interest in these areas and subsequently feel more confident pursuing careers  in these fields.
Successful women currently taking part include Lisa Seacat Deluca, Danielle Merfeld and Tiera Fletcher, all experts in their respective fields. Lisa Seacat Deluca is an engineer, author, speaker and inventor. Danielle Merfeld is the Chief Technology Officer at GE Renewable Energy and Tiera Fletcher is an Aerospace Engineer. According to recent studies, globally 'women make up only 15-20% of the current STEM workforce', so this initiative comes at a good time. It provides encouragement and support to young women who might want to enter these traditionally male dominated industries later on.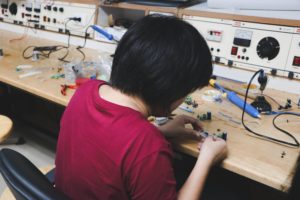 She Can STEM is partnered with industry giants Google, IBM., Microsoft, Verizon and GE. They are also supported by non-profit organisations Girls Who Code, girls Inc., the New York Academy of Sciences, Black Girls Code, Chick Tech and the National Center for Women & Information Technology.