Lubna Al Olayan, the 86th most powerful woman in the world according to Forbes in 2014, will become the chair to a new bank in Saudi Arabia. This will follow the merging of Saudi British Bank with Alawaal Bank to create the third largest bank in the region. She is the first woman to do so and her appointment breaks the convention of men leading the finance sector in the Kingdom, paving the way for women to challenge the traditional patriarchal structure embedded within it.
With a background in banking, Olayan has been described as 'one of the most influential businesswomen in the Middle East'. She has served as the CEO of the Olayan Financing Company, Deputy Chair of Alawaal Bank and sits on the board of the Olayan Group, a 'private multinational enterprise, international investor and diverse commercial and industrial concern with operations in the Middle East'. The Group has offices across the world and operates globally from Saudi Arabia. She also has substantial philanthropic work to her name alongside her business ventures.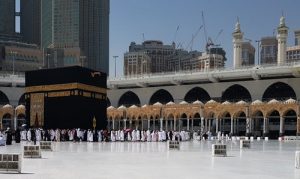 Al Olayan achieved recognition in 2004 when she became the first woman to deliver a keynote address at the Jeddah Economic Forum alongside speakers including former US President Bill Clinton and former Prime Minister Rafik Hariri of Lebanon.
The appointment of Al Olayan follows an increasing move towards equal gender representation and gender equality in Saudi Arabia. This follows the lifting of the driving ban in June 2018 and 'plans to allow women into sports stadiums'. However, there remain many issues of concern to women's rights groups, including the guardianship system, under which women must have permission from a male 'wadi' (guardian) to complete 'any major activity'.