There's no disguising the downturn in the property market. But, argues Nicole Bremner, the cyclic nature of the market could make this the perfect time for aspirant property developers to build a portfolio
It's undeniable that the capital's property market has lost its fizz. So flat is it that some parts of central London have dropped by a whopping 25 per cent, according to the Land Registry UK. That kind of figure is quite unsettling for a nation obsessed with home ownership. But if you've been considering starting a portfolio, it could now be the perfect opportunity to get started in property.
Property markets are, by their nature, cyclical and uncertainty of any kind can often be overblown, fuelling negative sentiment and further exacerbating declines. Over the last couple of years a few factors have worked together to create the perfect storm for what we're seeing now in the property market.
First was the change to Stamp Duty Land Tax. Introduced by the government to cool an overheating property market, it worked a little too well. Higher taxes on most transactions, especially in the south-east, meant that many home owners considering up or downsizing have stayed put. More tinkering with the tax system led to increases in the way landlords were taxed. Faced with increased charges, many smaller landlords were forced to sell down their portfolios.
Of course, Brexit was the final blow. It's no secret that UK property, especially in London, was viewed as a safe haven for many foreign investors. Following the referendum, even the sharp drop in the value of the British pound against major currencies couldn't offset international investors' jitters.
While this might seem all doom and gloom it isn't the case across the country. House prices in some regions outside of the larger southern cities are finally returning to pre-2008 levels, with overall housing prices continuing to grow. According to the Land Registry UK, as of September 2018 the average house price in the UK is £232,554, and the index stands at 121.97. Property prices have remained the same compared to the previous month and risen by 3.5 per cent compared to the previous year. In fact now could be the best time to invest.
Seasoned property investor Avi Dodi agrees. "I've been investing in London property for the last 35 years. Some of my best investments were made when no one else was buying." The reason for this comes down to supply and demand.
When there's concern about the housing market, people aren't buying which means demand is low. Those who'd like to sell can't achieve the price they need so hold off on selling, therefore decreasing supply. But there are always sellers who need to sell regardless of market conditions. If you've been watching on the sidelines, now could be the time to nab a bargain.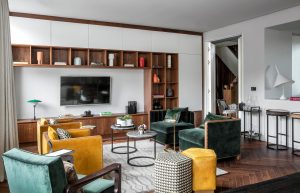 So how do you assess if a property is a cheap? While no two properties are identical, there is one simple way to calculate the relative value of all properties – price per square foot (sqft), (or metre if you're metrically inclined). Divide the price of a property by its total area or square feet. Select an area and analyse a sample size of at least a dozen properties with full details about the condition, bedrooms and any improvements made by prior owners.
Let's say that you've calculated that the average house in your chosen area is selling for £730 per sqft and you've found a property that's £650 per sqft, investigate why it's cheaper. If you have been considering a new career in property investment or development, this could just be the opportunity to take the plunge and purchase while no one else is. After all, prices are bound to turn around at some point. When asked if he's ever lost money on a property investment Dodi replies with a smile, "Not if I've held it long enough."