A law graduate and athlete, Dee-Ann Kentish-Rogers, has become the first black woman to be crowned Miss Universe GB since its inception in 1952.
She won a silver medal for competing in the Junior Athletics Championships in 2012 and went on to represent Anguilla in the Commonwealth Games in 2014. Unfortunately during the Games she sustained a knee injury and as a result she says her ambition to continue competing in professional sports 'reinvented itself'. However, she believes that the rigour of her training prepared her for Miss Universe as the pageant was the equivalent of becoming an Olympic athlete for Great Britain.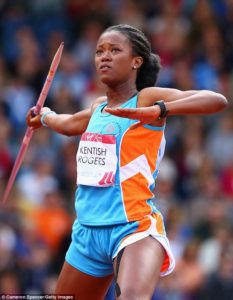 As the first black woman to win the title of Miss GB in the 66 year history of the pageant, Dee-Ann has made history. Paula Abbandonato, the national director for Miss Universe Great Britain, has been quoted as saying 'there is no better gift [than] having our first black winner to celebrate 10 years in the job' and she herself has said that she has 'come to the realisation that I've not only won the pageant as Dee-Ann, but as a black woman'. She states 'it is time that that diversity is seen on a stage where other young black girls and girls of all ethnicities can see that this is something for everybody not just some of us' and she has received a positive response from many across social media.
Following her win Dee-Anne intends to 'raise the profile of women in sports so that they will be able to gather more sponsorship and representation in the media'.
She will go on to represent the UK in the Miss Universe competition this coming December.