Billie Jean King has stepped in to defend Serena Williams after French Tennis Federation President, Bernard Giudicelli, introduced a new dress code for players competing in the French Open. Giudicelli singled out Serena William's black catsuit worn earlier this year, an outfit the player has stated she chose partly due to its ability to help prevent the blood clots she has experienced since pregnancy.  At the time, she said 'it feels like this suit represents all the women that have been through a lot mentally, physically, with their body to come back and have confidence and to believe in themselves.'
Expressing that he felt players had 'sometimes gone too far' in their clothing choices, Giudicelli stated that 'the combination of Serena this year, for example, it will no longer be accepted. One must respect the game and the place.' In future, he said that the Federation will be asking for advance copies of uniforms prior to the event taking place.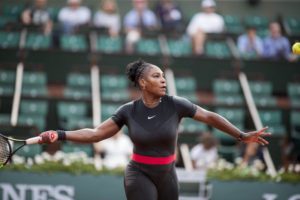 The move has prompted a backlash. It prompted former tennis world number one, Billie Jean King, to tweet that 'the policing of women's bodies must end. The "respect" that's needed is for the exceptional talent @serenawilliams brings to the game. Criticizing what she wears to work is where the true disrespect lies'. Nike also tweeted a message of support alongside an image of Serena on the court, captioning the photo with, 'You can take the superhero out of her costume, but you can never take away her superpowers. #justdoit'.
Despite this decision, Serena has said that she and Giudicelli have an 'amazing' relationship and that 'everything is fine'. She then won the first US Open match wearing a Virgil Abloh black tutu, part of Nike's new Queen Collection.