Figures have been released from music streaming sites Spotify and Apple Music which puts singer Dua Lipa as the most-streamed female artist in the UK for the year to date. The sites are the two biggest music streaming services, with more than 139 million subscribers between them.
Lipa's success is on the back of her self-titled album, which was the third most-streamed record in the UK and fourth globally.  The track One Kiss, with Calvin Harris, was one of her most successful songs, being the second most-streamed track on both sites, after Canadian rapper Drake's God's Plan.
Dua Lipa, 23, began her musical career at age 14, when she started covering songs by other artists on YouTube. In 2015, she signed with Warner Music Group and released her first single soon after.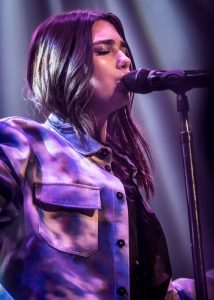 Lipa was awarded best female at this year's Brits and has just been announced as the muse for Vogue's January cover, in stunning images previewed online.  She is also expected to receive a Grammy nomination when the 2019 shortlist is unveiled on Friday, making 2018 a successful year.