Meghan Markle, the Duchess of Sussex, has been named as the third most influential person driving fashion searches according to Lyst's "Year in Fashion Report 2018".  The global search platform, used by 80 million shoppers from 120 countries, analysed more than 100 million search queries, page views, sales data and social media mentions across 5 million fashion products from 12,000 designers.
They note that the fashion designers worn by the duchess, will on average receive a +200 per cent increase in search demand for the brand, in the week following her wearing them. Worldwide spikes in searches for Givenchy and Stella McCartney followed her choosing the designers for her wedding day dresses.  While, other notable outfits of Meghan's, which have been lauded by fashion fans, have generated spikes in searches for 'boat neck' and 'tuxedo dress'.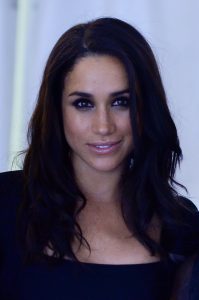 In her most recent public appearance at the Royal Variety show, Meghan wore Safiyaa, a London-based label which she had first worn at the Fijian state dinner on the royal tour of Oceania in October.  The brand was founded by Daniela Karnuts in 2011 and named after her daughter.  Following her work as a fashion media professional, Karnuts noticed the lack of Savile Row equivalents for successful businesswomen and decided to change that.  With 12 dress designs as her brand blueprint, she went into production, and has since expanded to offer demi-couture eveningwear too, the looks favoured by the duchess.   In a report by WWD, author Rosemary Feitelberg nicknames it the "Meghan economy": the effect the royal has on smaller brands, and how her influence is helping them succeed.