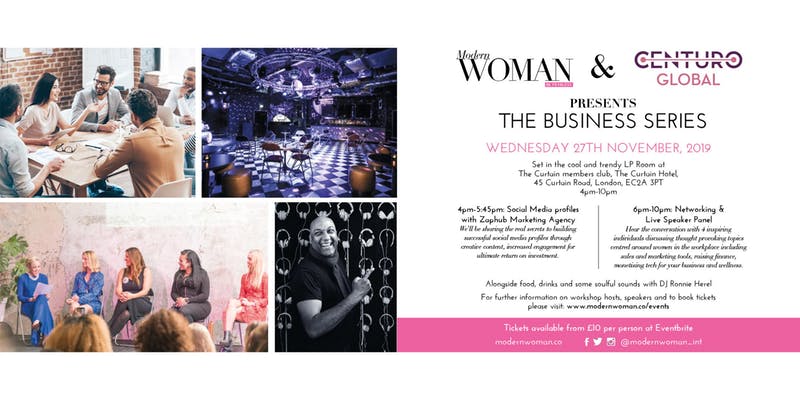 The Business Series with Modern Woman x Centuro Global
Modern Woman & Centuro Global
PRESENTS
The Business Series
Set in the cool and trendy LP Room at The Curtain members club, The Curtain Hotel, 45 Curtain Road, London, EC2A 3PT.
Join us for an insightful day full of workshops, valuable business tips and inspiring stories whilst networking with other business owners, entrepreneurs and passionate people! See below for a diary of events:
4pm – 5:45pm: Social Media Marketing Masterclass
Social media has rapidly become vital in the armoury of any entrepreneur's marketing efforts. Not only is it important for promotional purposes, but also as a medium to communicate with business customers and clients.
Dominic Baber-Norris and Xavier Parkhouse-Parker from digital marketing agency Zaphub will lead this workshop on how to use social media for your business.
This unmissable course will show you how to:
Develop a successful social media strategy
Identify and target your audience
Create compelling content to drive engagement
Time your posts to maximise engagement
*A surprise social media influencer will also be attending to give their top tips on driving engagement.*
5:45pm-7pm: Food, drinks and networking
7pm-8:30pm: Live Speaker Panel
Hear the conversation with 4 inspiring individuals' personal experiences as well as discussing thought provoking topics centred around women in the workplace including sales and marketing tools, raising finance, monetising tech for you business and wellness. Followed by an audience Q&A.
Speakers to be announced soon, here are some of the questions that will be raised:
– What is the most effective way to sell myself at work or my business services/products?
– The most effective way to stay healthy whilst dealing with the stress of work.
– What is the best strategy for raising finance and how to manage this process
– Address the different ways in which tech can be used efficiently in your work or business to operate smoothly and save money.
8:30pm-10pm: Networking, drinks and soulful sounds with DJ Ronnie Herel (Mi-Soul Radio)
All attendees will also receive a free day pass to the Private Members Club, "The Curtain".
Please note, a term of hosting this event in a member's club and hotel requires us to share your name and email address with the venue. You will be able to unsubscribe from the database at any time.