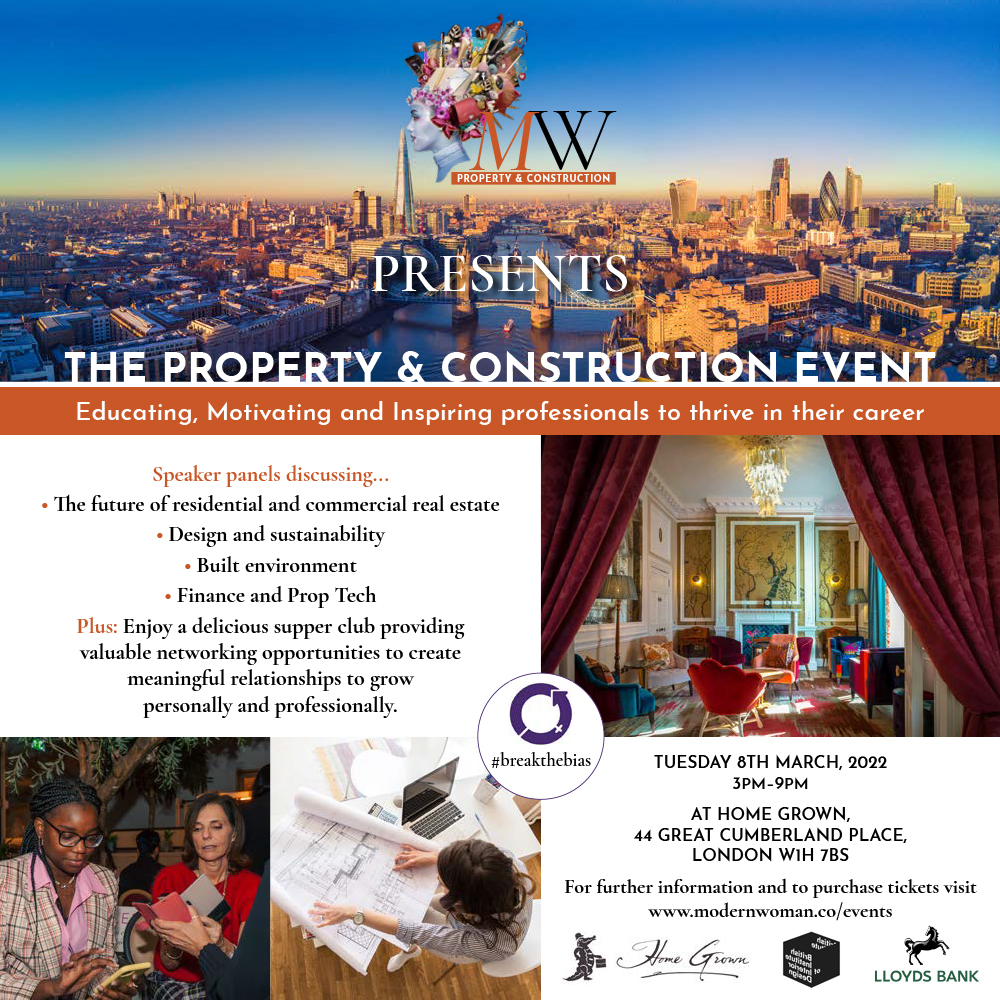 Modern Woman Property & Construction Event – 8th March
Modern Woman
PRESENTS
The Property and Construction Event
Tuesday 8th March, 2022
3pm-9pm London time
At: Home Grown, 44 Great Cumberland Place, London, W1H 7BS
(5 mins from Marble Arch station)
To celebrate International Women's Day we're excited to be hosting this industry event to educate, motivate and inspire professionals through informative speaker panels discussing the future of residential and commercial real estate, design, sustainability and the built environment. We'll also be hosting a delicious supper club providing valuable networking opportunities to create meaningful relationships to grow personally and professionally.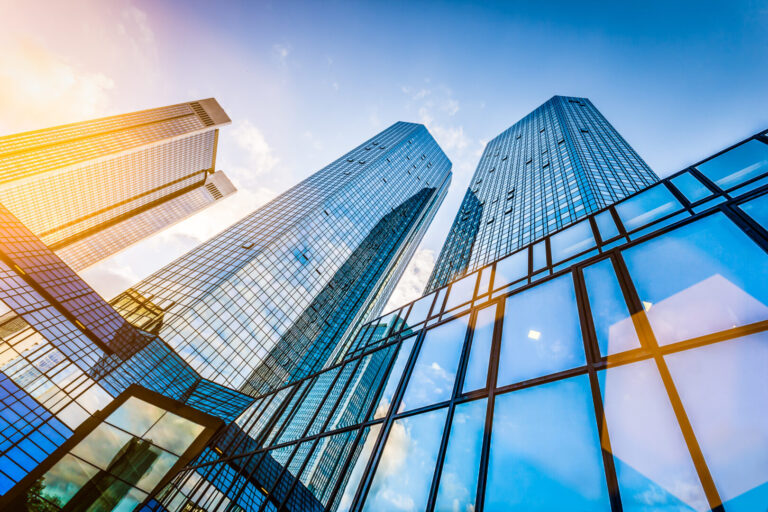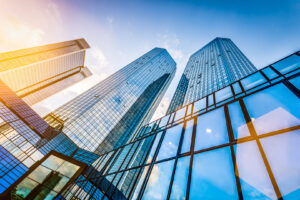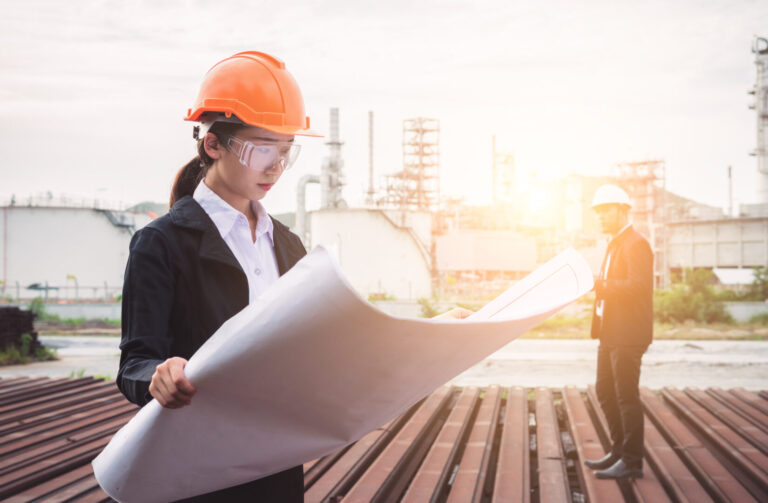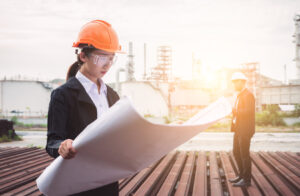 Agenda for the event:
– 3pm-3:30pm: Networking, teas, coffees and light refreshments
– 3:30pm-6pm: Panel Discussions as follows:
3:30pm-4:15pm: Panel 1: Design & Sustainability – Verity Coleman, Maria Fernandez Cachafeiro & Tiffany Lam
4:25pm-5:10pm: Panel 2: Property Investing & Sustainability – Verity James, Dolapo Oni & Gary Moore
5:15pm-6:00pm: Panel 3: 

The Future of Residential & Commercial Real Estate – Nicky Stevenson, Nivene Powell & Olga Hopton
– 6pm-9pm: Supper Club, Guest Speaker & Networking as follows:
6pm-6:45pm: Evening guests arrive, networking & drink on arrival
6:45-7:30pm- 2 course sit-down meal
7:30-8:00pm- Special Guest Speaker: Michaela Wain
8:00-9:00pm- Further networking, drinks and close
Speakers Confirmed for the event:
Michaela Wain –
Founder of Design & Build UK, BBC's The Apprentice Finalist & Ambassador for women in construction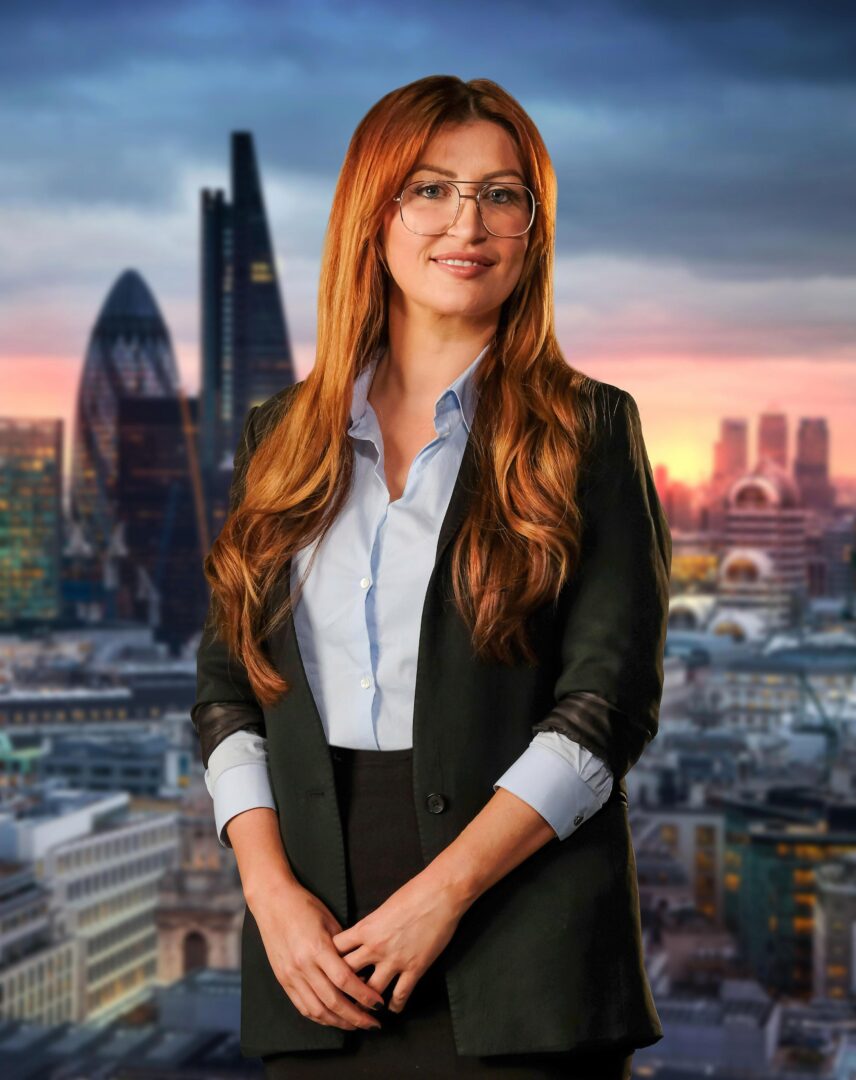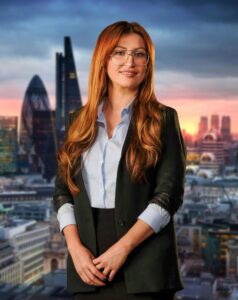 Michaela Wain is the founder of Design and Build UK and has spent 11 years starting and scaling companies within the construction industry. She was also a finalist on Series 13 of BBC's The Apprentice.
Appearing on the hit TV show raised her media profile which enabled her to receive funding for her business and she is now a professional speaker and speaks on subjects such as starting and scaling companies, women in construction, marketing and women in business. As a strong, successful woman within the construction industry, she is passionate about getting more women into the industry. This stemmed from her having thousands of women contacting her for advice and help.
Michaela also runs Framework Marketing, where she helps companies within the construction industry to recognise their target audience, build marketing strategies to help scale the  business, create brand awareness and convert leads.
Michaela is a mother of 2 boys and is keen to inspire the next generation, creating awareness of the many career paths available in the industry, and acknowledge the amazing work men in construction do to improve the opportunities women have, but to also educate people on what can change to attract and retain women.
Dolapo Oni – CEO of CityGate Property Development and Real Estate Investor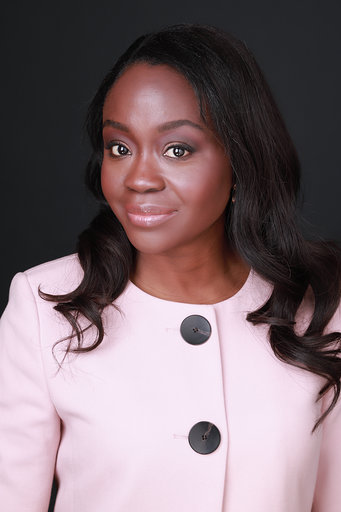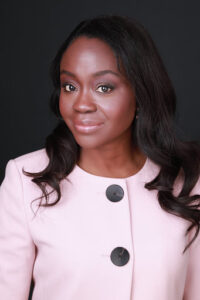 Dolapo runs a multi million pound property portfolio based in Central London. Having set out into property investing 12 years ago, she built her expertise in securing and transforming distressed properties and has built up a solid portfolio of owned and managed properties. Her company has developed and advised on a combined portfolio of over 50 million pounds.
Dolapo has an MBA from George Washington University and has previously worked in large corporates, such as KPMG consulting in the United States and BP in London, eventually leaving her corporate life to fully immerse herself in the UK residential property sector.
She was voted one of the top 10 women making a difference in UK Property and is a regular speaker and podcast host. She has also been featured bidding on the BBC's TV show Homes under the Hammer and has another full feature airing in this season.
Her mission is to empower women to build life changing wealth through property.
Nicky Stevenson – Managing Director of Fine & Country UK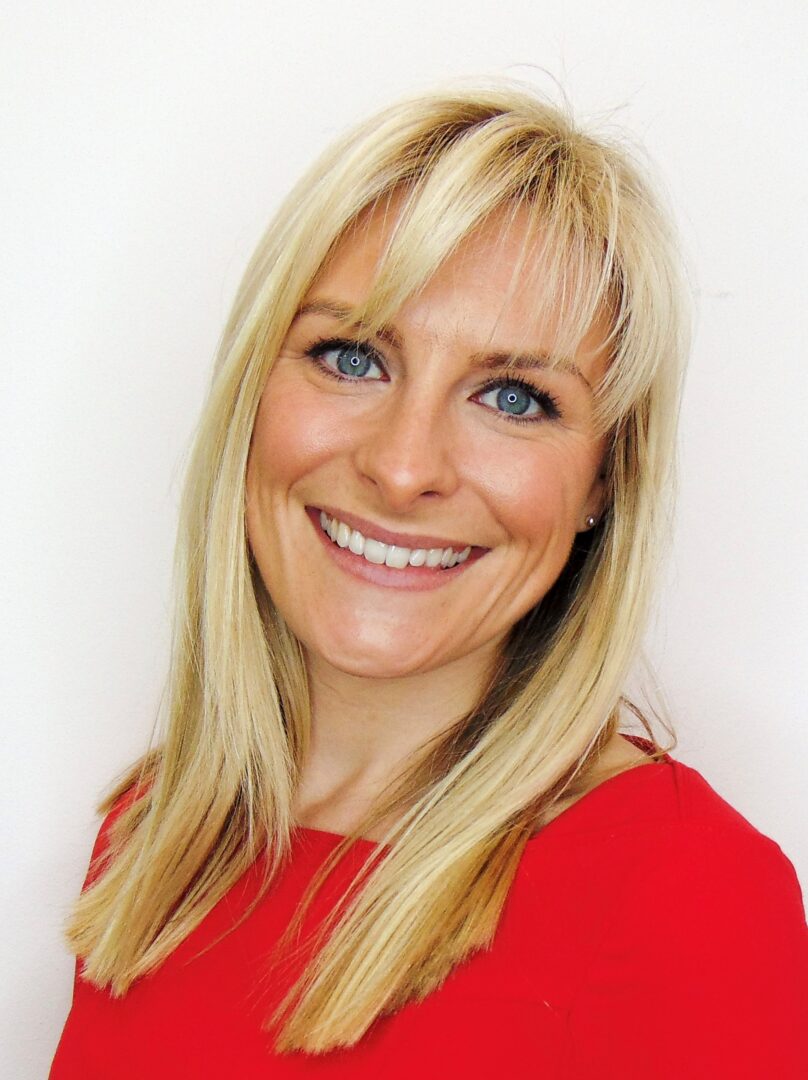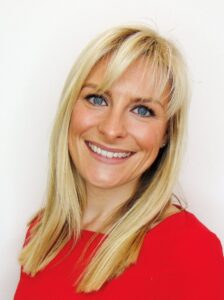 Nicky started her career as a lettings negotiator in 2003 and for the next nine years worked for a number of different companies in lettings-based roles. She then moved into the world of training and live events for estate agents, where she reached a director level role as Managing Director of the Property Academy. Prior to her position with Fine & Country she was Market Centre Director at KW Prime in London, part of the Keller Williams group.
With an extensive successful background, Nicky grew the profit of one former business by 51% on the prior year, with just a 10% increase in overheads. Dedicated to her own learning, Nicky is a Licensed Practitioner of NLP, and a regular attendee at business events. Additional accomplishments include judging the 'UK Business Awards' for three consecutive years in 2017, 2018, whilst acting as 'Chair of Judges' in 2019. Nicky is also a volunteer mentor for Agents Together, a non-profit organisation, where experienced professionals in the industry share their experiences to help those who are looking to progress in their careers.
Nivene Powell – Head of Communities at EcoWorld London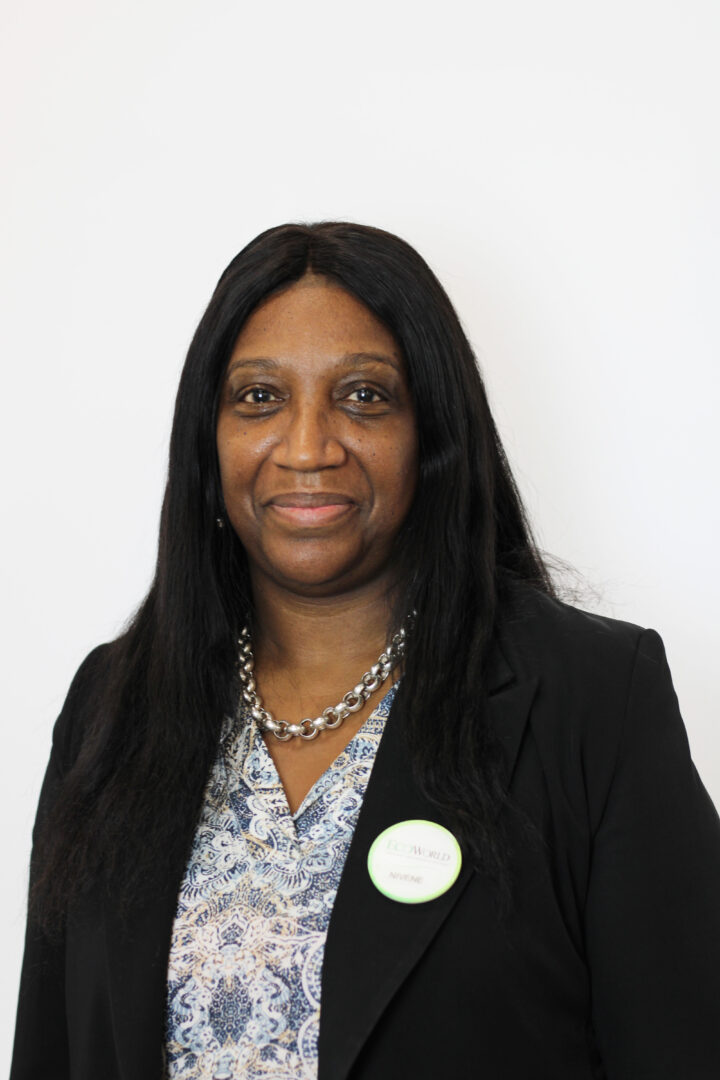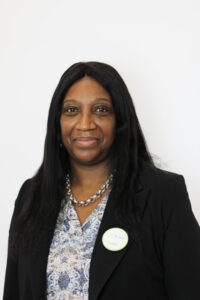 Nivene Powell is Senior Community Liaison Manager at property developer EcoWorld London. Nivene has more than 25 years' experience working on community engagement, policy development and providing social value through development. She currently leads on EcoWorld London's employment, skills and community engagement programmes across all of its UK projects including its pre-employment training scheme in Hounslow, which provides construction training and qualifications to unemployed residents.
Prior to joining EcoWorld London, Nivene worked for the London Borough of Hammersmith and Fulham as a Policy and Strategy Manager across key social policy issues across the council and as Community Liaison Manager for Willmott Dixon. She has a BSc Hons in Caribbean Studies/Social Policy and is also an executive committee member for two housing organisations.  EcoWorld London is a major UK housebuilder with a particular focus on creating a positive legacy for the communities it builds in. It has delivered, or is delivering, over 3,000 homes in four boroughs and has over 5,000 new homes in the pipeline.
Maria Fernandez Cachafeiro – Head of Sustainability at Multiplex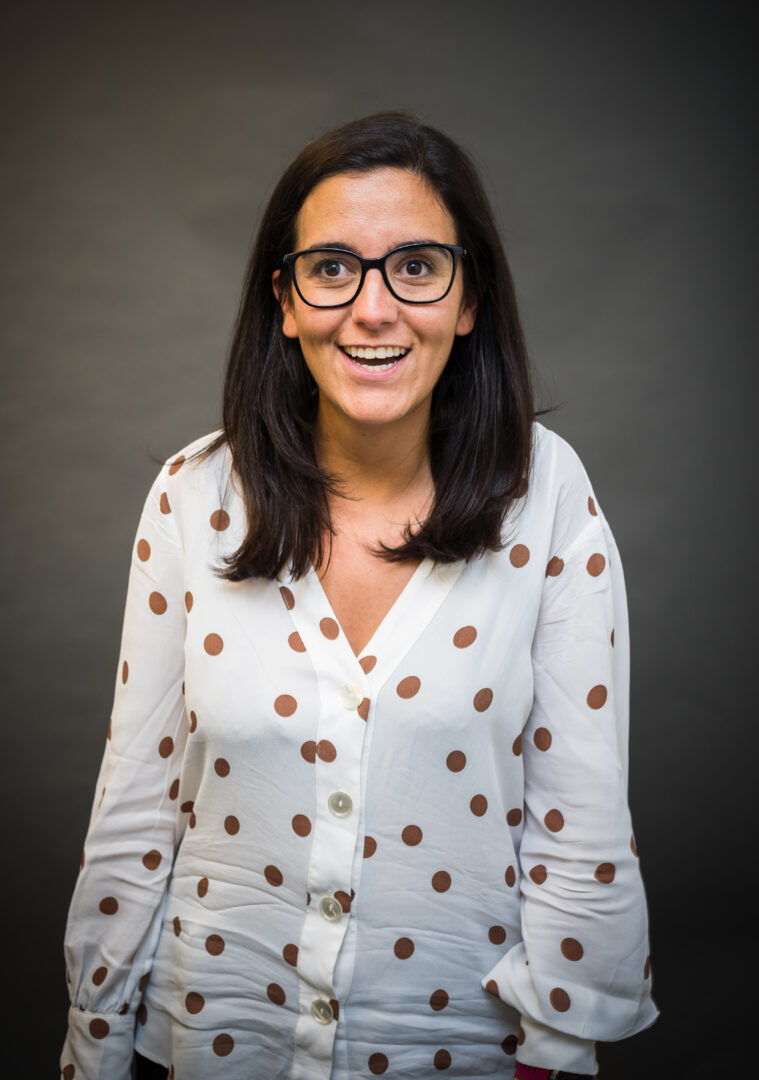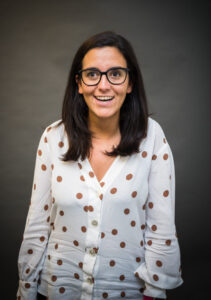 Maria is Head of Sustainability at Multiplex with more than 10 years' experience driving sustainability within the built environment, in the UK and abroad. In her current role, Maria is responsible for all aspects of environmental and social sustainability, including delivery of the 2030 strategies: One Decade to Act, Multiplex's roadmap to decarbonisation, and 'Leave no one behind', its social equity strategy.
Verity Coleman – Creative Director of Rascal & Roses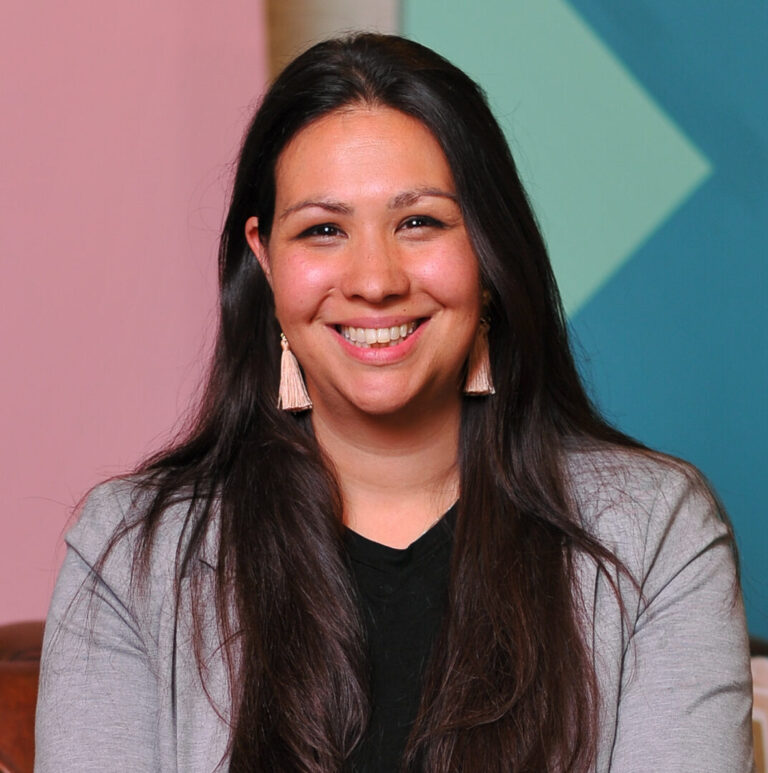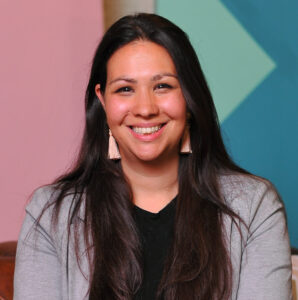 Verity Coleman established Rascal & Roses in 2013. With a 12-year career as a British Army Officer, Verity has been able to utilise her project management and leadership skills to create a dynamic design studio as well as harness a wealth of experienced artisans and trades within the team. Clients are at the heart of everything they do, but the studio also offers a pragmatic and solution-based approach to projects. The studio has a natural lean toward traditional country style with an elegant, contemporary mix. Specialising in quirky, period properties, colour is the firm foundation on which all the studio's design start. Whilst based in Herefordshire, projects are throughout the UK ranging from private family homes to boarding schools.
Verity is a Registered Interior Designer member of the BIID (British Institute of Interior Design)
Verity James – Sustainability Business Development Director at JLL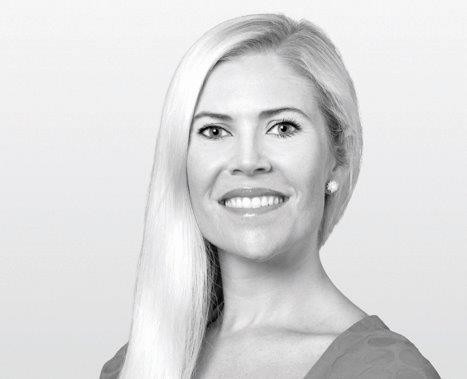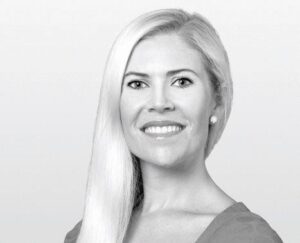 Verity James is Sustainability Business Development Director at JLL.  At JLL, Verity works with the sustainability teams to help clients achieve their sustainability ambitions.  These clients are across all sectors including investors, developers, residential and occupier clients.
Prior to joining JLL in sustainability, where she has been for the last 3 years, Verity's career span of 12 years includes commercial, business development and relationship management experience working with clients in the UK and EMEA. Throughout her career, she has had experience collaborating with CEOs, CFOs and Managing Directors.  Verity obtained MSc in Real Estate from Reading University and BScEcon in European Union Politics with French & Spanish from Cardiff University.
Gary Moore – Area Director, London Real Estate at Lloyds Bank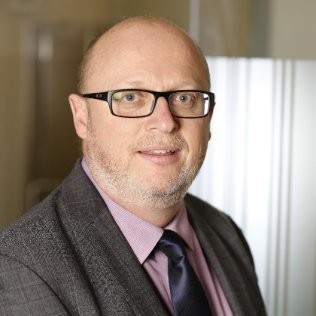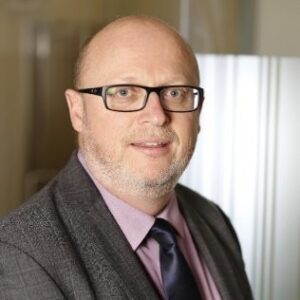 Gary Moore is an Area Director of the London Real Estate team, part of SME & Mid Corporate business at Lloyds Banking Group. Gary has been in Lloyds Banking Group for 36 years and in various leadership roles for 20 years across several parts of the business. Prior to that he spent 15 years in wealth planning and branch banking. He has responsibility for a team of 8 Relationship Managers & Directors who look after a lending book of £1BN with over 2000 investment and development clients borrowing between £250K – £12.5M.
Tiffany Lam – Research Manager for Quality of Life Foundation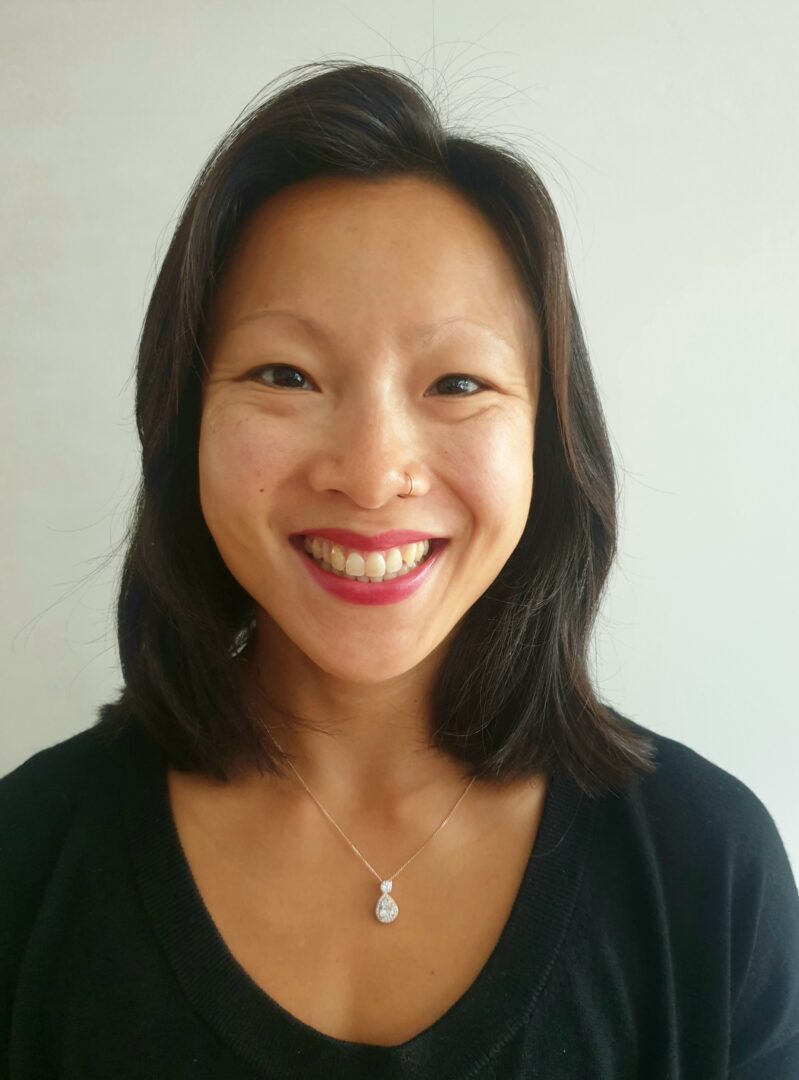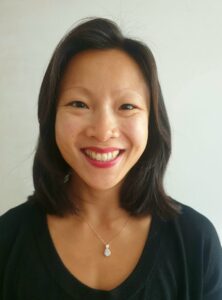 Tiffany Lam leads the Quality of Life Foundation research on health, wellbeing and the built environment. She has expertise in inclusive and sustainable cities and has worked with organisations and city leaders across the US, UK, Europe and Latin America on research, policy and campaigns around tackling inequalities in urban cycling, just climate transitions, and safer cities for women and girls. Previously, she led NEF Consulting's work on health inequalities and the future of cities.
Olga Hopton – Expansion Director of Plus X Innovation Hub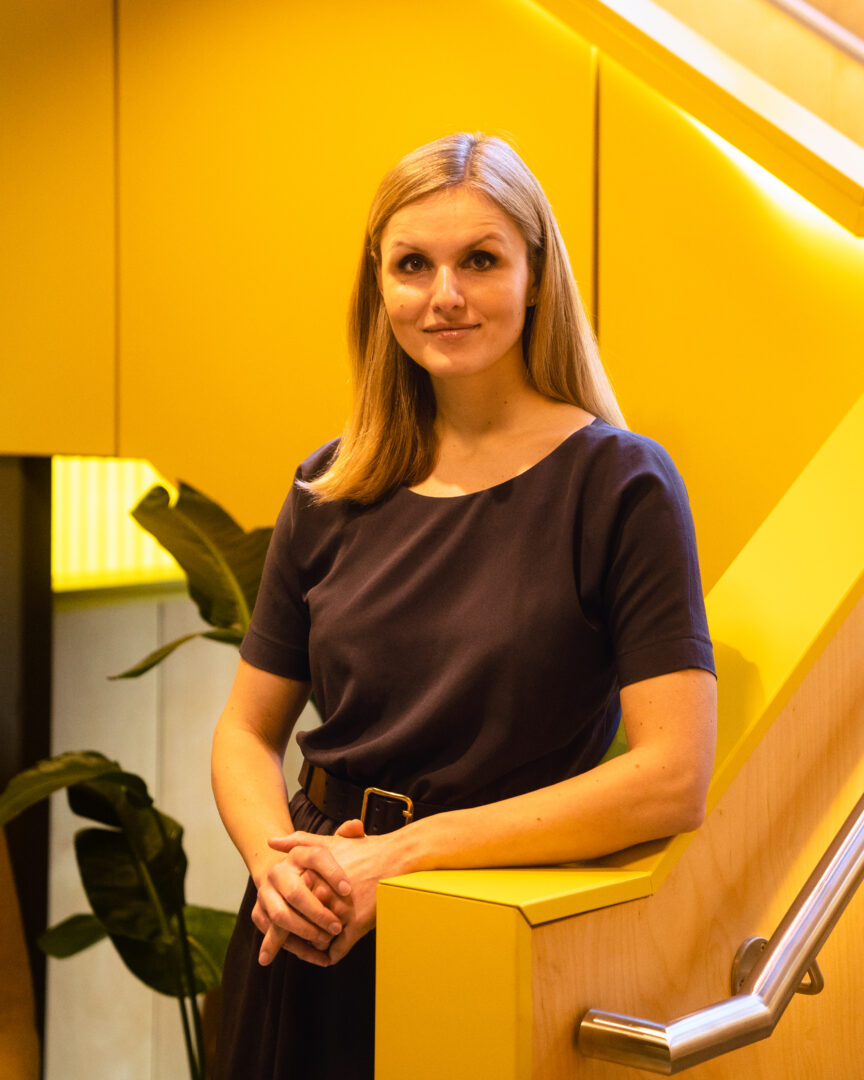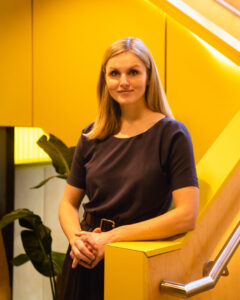 Olga Hopton is a Director at PlusX having previously been Managing Director of PlusX's Brighton Innovation Hub. Plus X transforms places, blending flexible work spaces with a wealth of facilities – including media studios, prototype workshops and bio labs – to create entire ecosystems for startup support. This unique approach supports productivity, positivity and wellness both in the workplace and the wider community.
 Olga has a particular focus on sustainability, and under her leadership Plus X Brighton became the first building in the South East to be on track for a WELL Platinum rating. In her role as Expansion Director Olga works closely with the business development director to champion the sustainable design and positioning of new Plus X locations.
We're proud to be partnering with the Lloyds Bank & the British Institute of Interior Design on this event.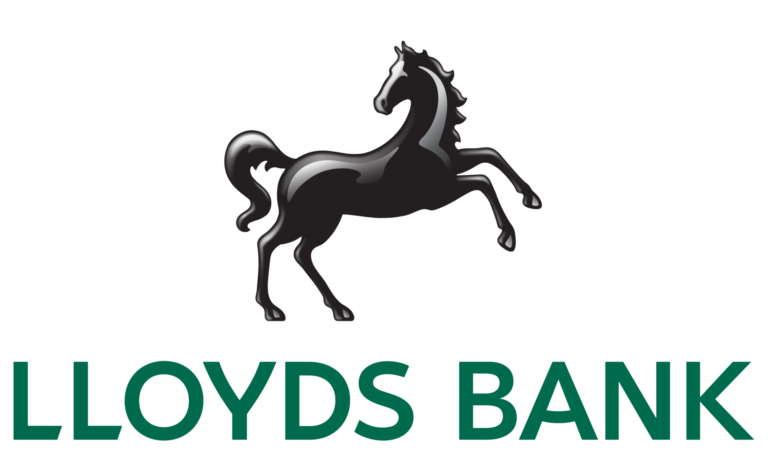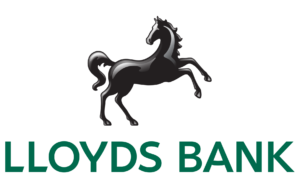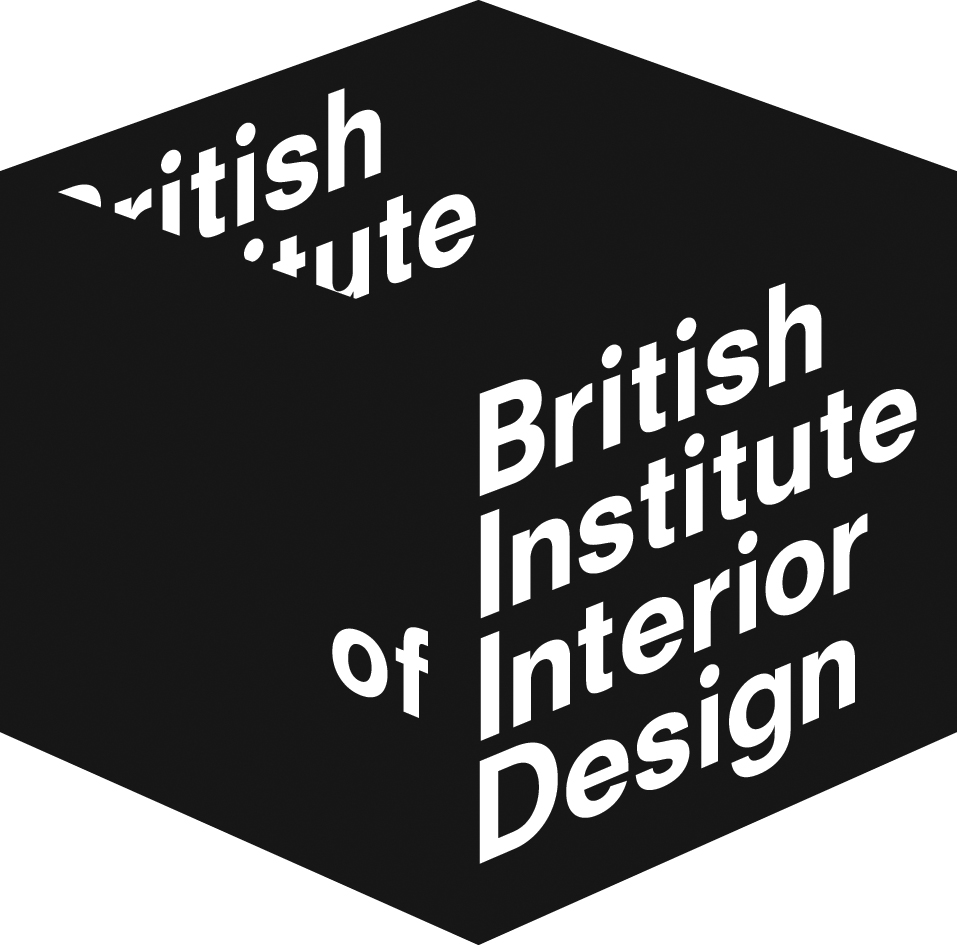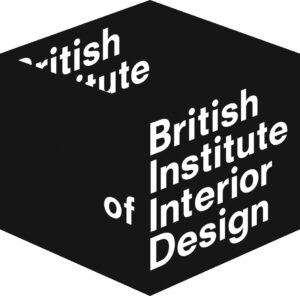 Who will I meet?
This event is perfectly suited to those that are mid-career to senior level professionals including business owners or those in C-Suite and managerial positions.
Whilst the content for this event is property & construction focused, individuals from other industries are welcome to join.
We also welcome all genders to join our events to support our initiative in empowering women in the workplace.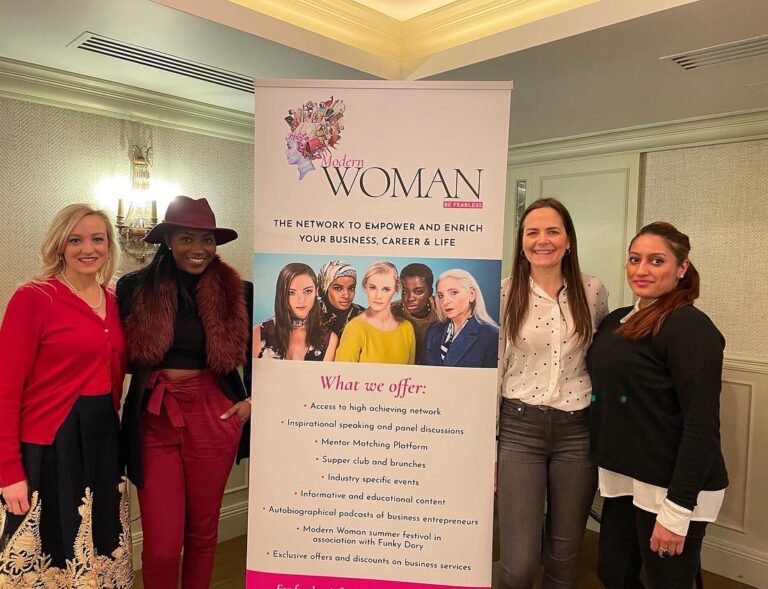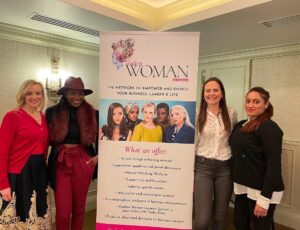 About the venue Home Grown:
Home Grown is a private members' club that provides entrepreneurial pioneers with unique resources to unlock the true value of their business potential. It is a global community of experienced  entrepreneurs, sophisticated investors and trusted advisors. Home Grown also features fabulous bedrooms designed by Russell Sage Studio, a bar and a restaurant with a focus on seasonal, locally sourced ingredients from independent premium suppliers.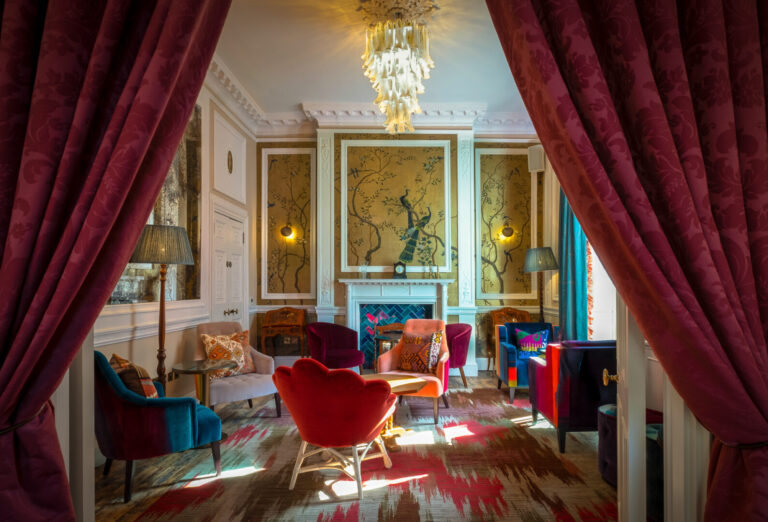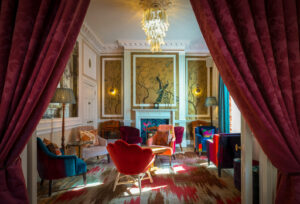 Tickets:
Full day pass: £75 (includes access to the event from 3pm-9pm including all panel discussions, teas, coffees and light refreshments and supper club with a 2-course meal and drink on arrival)
Half day pass: £40 (Entrance from 3pm-6pm including all panel discussions, teas, coffees & light refreshments)
Supper Club only: £55 per person (Entrance from 6pm-9pm including a 2-course meal and drink on arrival)
*Modern Woman Sapphire & Emerald Members Discount: 10% off* please login to retrieve your discount upon checkout.
*NB Covid-19 Disclaimer*
The safety and wellbeing of all our guests is our priority and this event will be hosted in-line with Covid-19 government guidelines.
If this event needs to be postponed then tickets will be transferable to a later date or refunded.