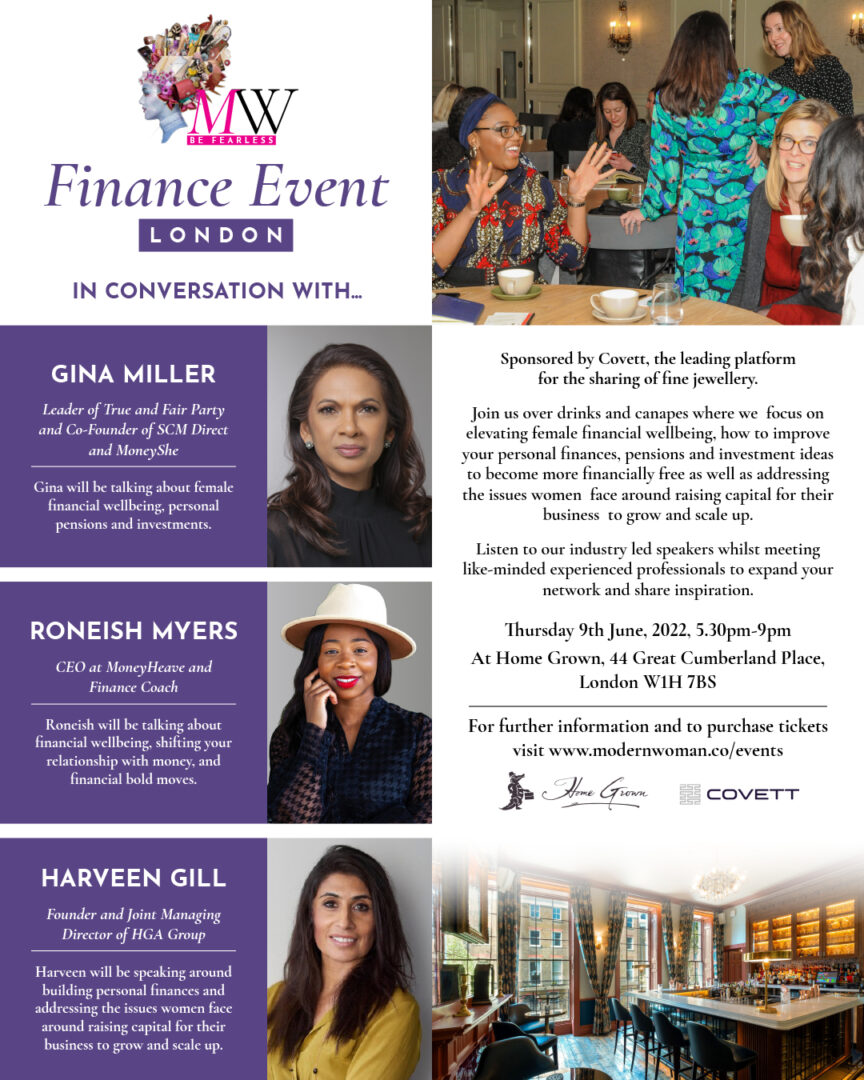 Modern Woman Finance Event London – 9th June
Modern Woman Finance Event
Thursday 9th June, 2022
5:30pm-9pm London time
At: Home Grown, 44 Great Cumberland Place, London, W1H 7BS
(5 mins from Marble Arch station)
Join us over drinks and canapes where we focus on elevating female financial wellbeing, how to improve your personal finances, pensions and investment ideas to become more financially free as well as addressing the issues women face around raising capital for their business to grow and scale up.
 Listen to our industry led speakers including Gina Miller, Harveen Gill, and Roneish Myers, whilst meeting like-minded experienced professionals to expand your network and share inspiration.
Thank you to Covett for sponsoring this event
Speakers confirmed for this event:
 Gina Miller – Leader of the True and Fair Party and co-founder of SCM Direct and MoneyShe

Gina Miller is a dynamic businesswoman, activist and now, UK political party leader. She co-founded SCM Direct in 2009 as a democratising, modern wealth management company with values rooted in honesty, fairness and transparency to counter issues in the sector that contributed to poor consumer outcomes and the Global Financial Crisis 2007/8. But her career in Financial Services stretches back to 1996 when she started a specialist financial services marketing agency, SWAY.
In June 2020, Gina launched MoneyShe dedicated to empowering women and educating them on topics such as investing and pensions so they are better able to look after their financial health.
In 2012, Gina co-founded the True and Fair Campaign aimed at increasing UK investor and pension protection and increasing governance and regulations within the financial services sector. Armed with a strong sense of corporate responsibility, Gina continues to be a vocal voice in the UK investment and pensions industry, challenging the unfair treatment of ordinary UK savers and investors and the inaction of the regulator.
Most recently, Gina launched a new political party, the True & Fair Party, with the strap 'we deserve better' which will focus on cleaning up politics and electoral reform, and sustainable, pragmatic policy making.
Gina will be joining our panel discussion on the evening, speaking about female financial wellbeing, personal pensions and investments.
Harveen Gill – Founder and Joint Managing Director of HGA Group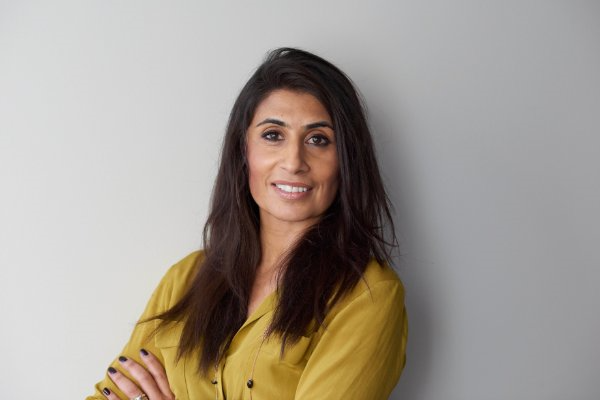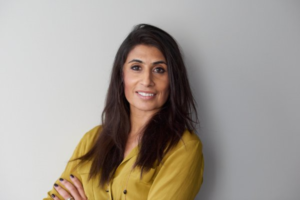 Harveen Gill is founder and Joint Managing Director of HGA Group – the UK's leading international boutique recruitment and consultancy operator within fashion and retail. HGA Group focuses on recruitment from mid management to board level positions. Based in London, their international offices include Dubai, Italy, India, South Africa and Turkey. Her extensive career includes working  for John Lewis, New Look and Topshop.
Harveen is passionate about readdressing inequality, particularly within gender and  inclusion from within all ethnic minority groups.
The lack of female participation at leadership level in business and generally in investment led to Harveen co – founding EVE – a Female Angel Investor Community in January 2020.  The focus is to help "move the dial" in this area where females are overwhelmingly underrepresented,  EVE completed it's first deal in April 2020.
Harveen will be joining our panel discussion on the evening, speaking about building personal finances and addressing the issues women face around raising capital for their business to grow and scale up.
Roneish Myers – Owner at MoneyHeave and Finance Coach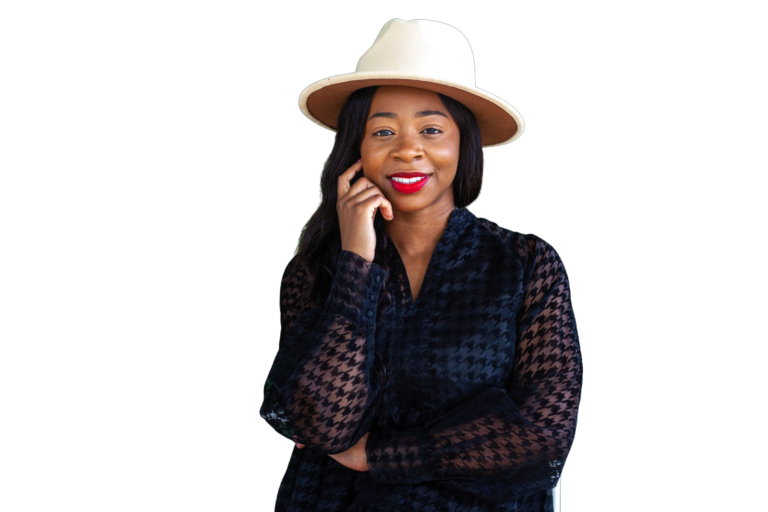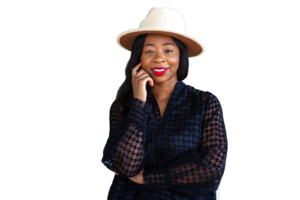 Roneish Myers, is a Forbes Featured Financial Expert, helping Professionals & Entrepreneurs get good with managing
their money. Roneish has worked in the world of Finance for over 10 years. In addition to attaining a First-Class Degree in Accounting and Finance in 2014 her career includes roles at the online streaming giant Netflix, Britain's leading marketing service group St Ives Plc and Award Winning International Outsourced Sales Agency CPM UK, but something that kept bugging her was how little friends, family, and even co-workers knew about their own finances. Being both a money enthusiast and passionate advocate for economic empowerment it made sense to create a business that would do just that! Which led to the birth of MoneyHeave Ltd – A Financial Coaching Service. Roneish understands that many families are not given the tools and knowledge needed to manage their finances, or maybe they don't have the time and so simply want someone else to manage it for them. Clients she has worked with have been able to create time freedom for themselves enabling them to spend more time with their families; set up businesses; create multiple streams of income, purchase their dream home, and clear multiple figure debts, enabling them to have more freedom with their money.
Roneish will be joining the panel on the evening, speaking about financial wellbeing, shifting your relationship with money, and financial bold moves.
About Covett: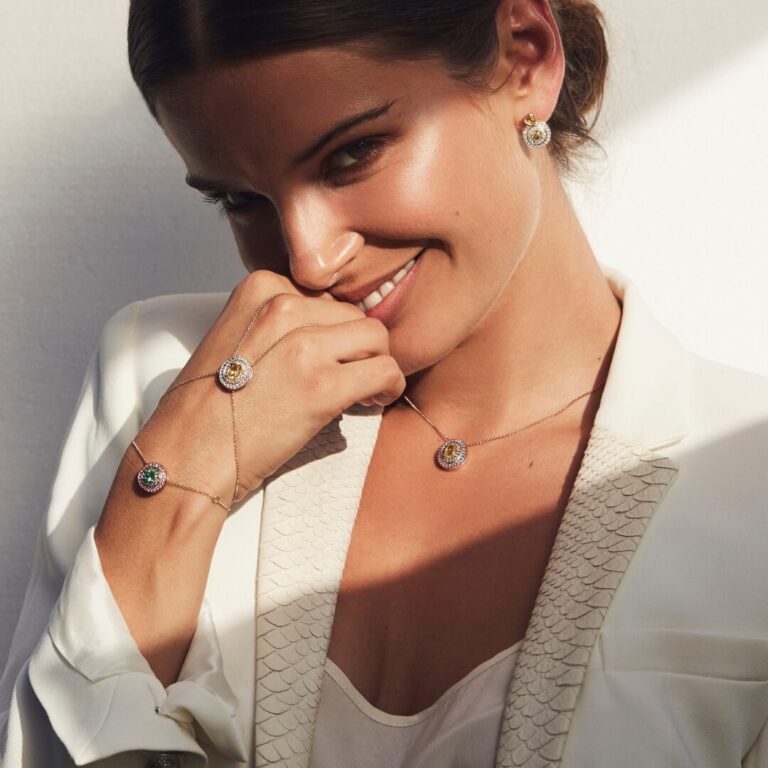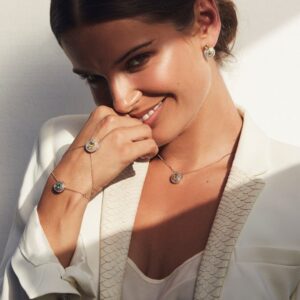 Covett is re-defining the nature of fine jewellery ownership through their shared ownership and subscription-based models. With Covett, your investment can provide ownership, access or both.  Either way you choose, you are expanding your collection of the fine jewellery you covet bringing you abundance and unlimited brilliance.  Whether you want to have access to pieces for special occasions, to elevate your wardrobe, or add some sparkle to your Zoom calls, Covett will have the perfect piece for you to borrow or share.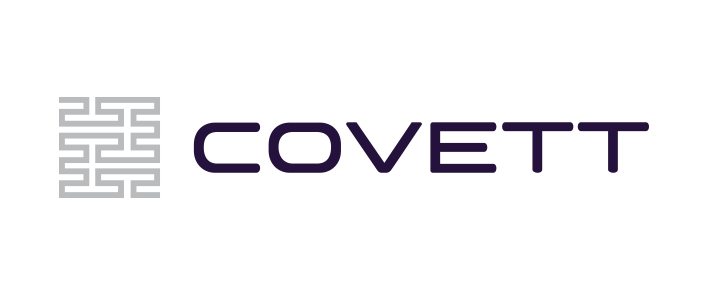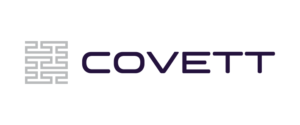 Who will I meet?
This event is perfectly suited to those that are mid-career to senior level professionals including business owners or those in C-Suite and managerial positions, from diverse industries. We welcome all genders to our event to support our initiative in empowering women in the workplace.
About the venue Home Grown:
Home Grown is a private members' club that provides entrepreneurial pioneers with unique resources to unlock the true value of their business potential. It is a global community of experienced  entrepreneurs, sophisticated investors and trusted advisors. Home Grown also features fabulous bedrooms designed by Russell Sage Studio, a bar and a restaurant with a focus on seasonal, locally sourced ingredients from independent premium suppliers.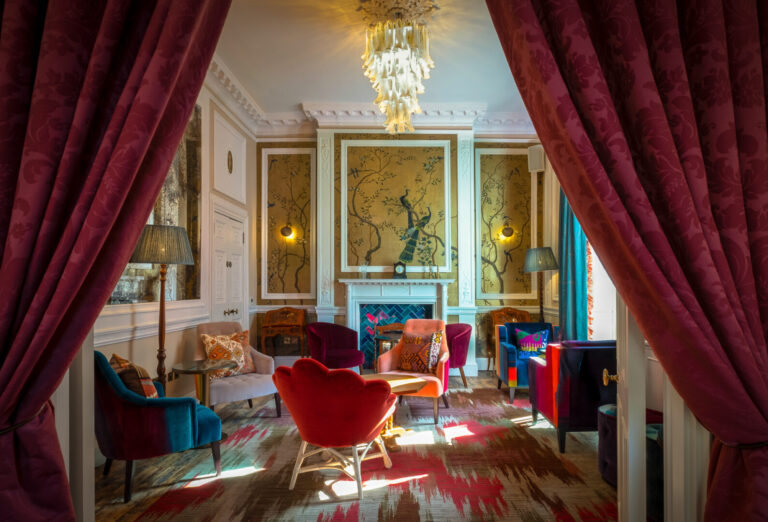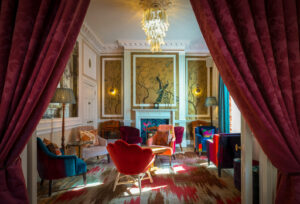 Tickets:
Tickets include drinks and canapés, speaker panel and networking:
– Sapphire & Emerald members: £28.50pp – please login to book your tickets and your discount will apply
– Non-members: £35pp
*NB Covid-19 Disclaimer*
The safety and wellbeing of all our guests is our priority and this event will be hosted in-line with Covid-19 government guidelines.
If this event needs to be postponed then tickets will be transferable to a later date.
Next Event
Date

Apr 04 2023

Time

10:00 am - 11:00 am