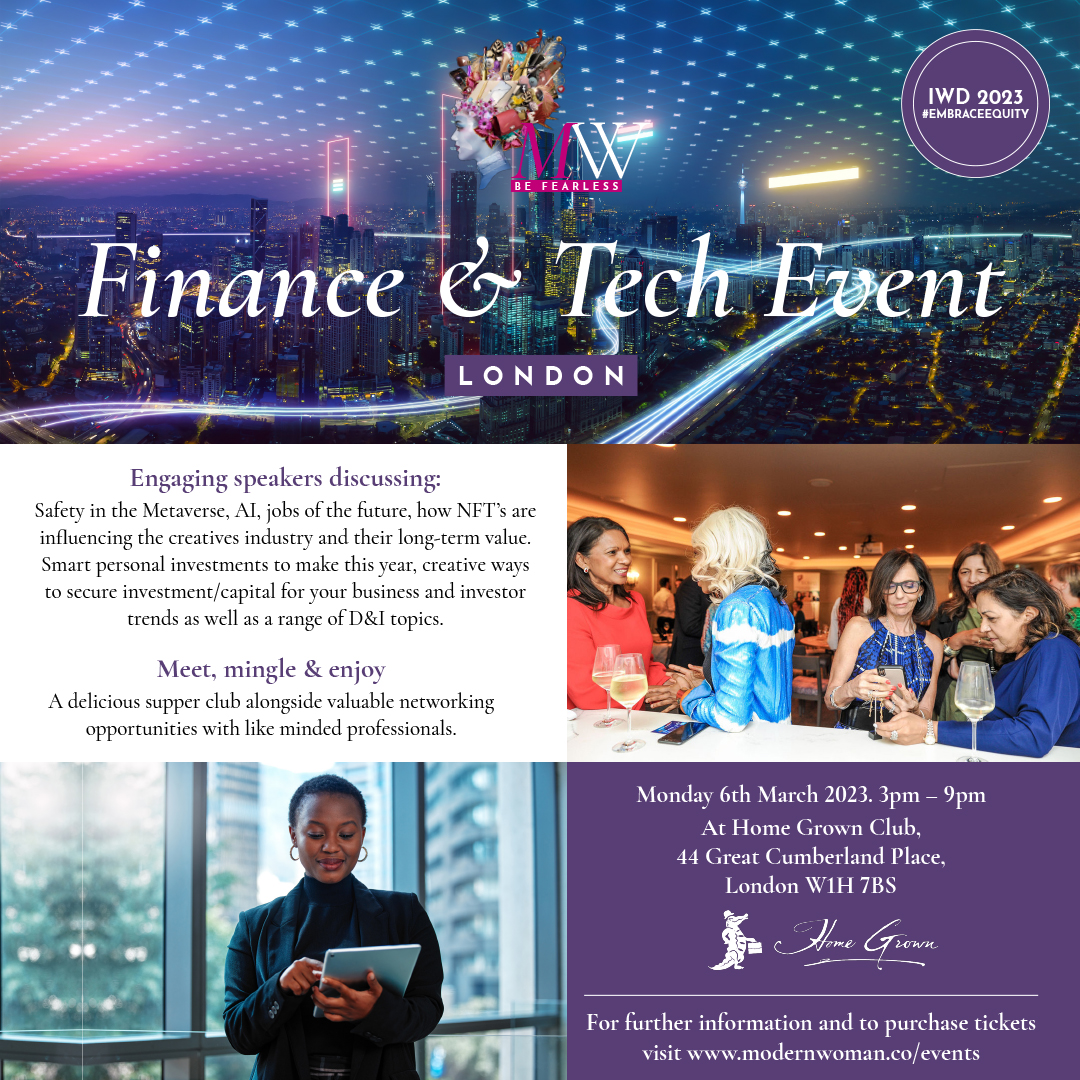 Modern Woman Finance and Tech event – 6th March
Modern Woman
PRESENTS
The Finance and Tech event
Monday 6th March, 2023
3pm-9pm London time
At: Home Grown, 44 Great Cumberland Place, London, W1H 7BS
(5 mins from Marble Arch station)
✨7 SPEAKERS ✨PANEL DISCUSSIONS✨POWERFUL NETWORKING
This year sees us coinciding International Women's Day with theme of finance and tech. We'll be deep diving into discussions around AI, NFT's whilst also addressing creative ways to raise investment for 2023 and saving smart for our personal pockets.
We'll also be hosting a wonderful supper club with an inspiring special guest speaker, and a multitude of fruitful networking opportunities to meet like-minded professionals and create relationships to grow personally and professionally.
.
Agenda for the event:
– 3pm-3:30pm Guests arrive / networking
– 3:30pm-6:15pm: Panel Discussions as follows:
Panel 1: The Metaverse, AI & NFTs

Safety in the metaverse for our children & how the metaverse will impact human interaction
AI – will we lose our jobs to AI & how can we create smarter processes through AI
How NFT's are influencing the creatives industry and their long-term value

Panel 2: Personal Investing and Raising capital

Smart investments to make this 2023 during economic uncertainty
Creative ways to secure investment & capital for your business
Ideas for pitching and securing government grants for tech and innovation
Investor trends for 2023
– 6pm-9pm Dinner, Guest Speaker & Networking as follows:
6pm-6:45pm: Supper guests arrive, networking & drink on arrival
7pm-8pm: Delicious 2-course buffet style supper alongside networking
8pm-8:45pm: Live Q&A interview with Special Guest Speaker
8:45pm – 9pm: networking & close
Speakers confirmed for this event:
(Further speakers to be confirmed soon)
Deepak Paramanand – Director of Artificial Intelligence at JP Morgan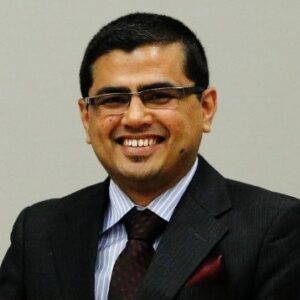 With a proven record of accomplishment of over 18 years of experience across 3 continents, 5 domains and 6 companies in designing, developing, and deploying BI, AI systems and everything in between. Expertise in implementing Ethical AI practises in product development right from discovery, design, development & deployment. Cross AI  deployment experience across classical machine learning techniques such as Logistic Regression, Computer Vision, NLP, GANs & Reinforcement Learning.
Reedah El-Saie – Founder & CEO at Brainspark Games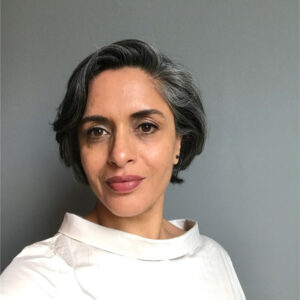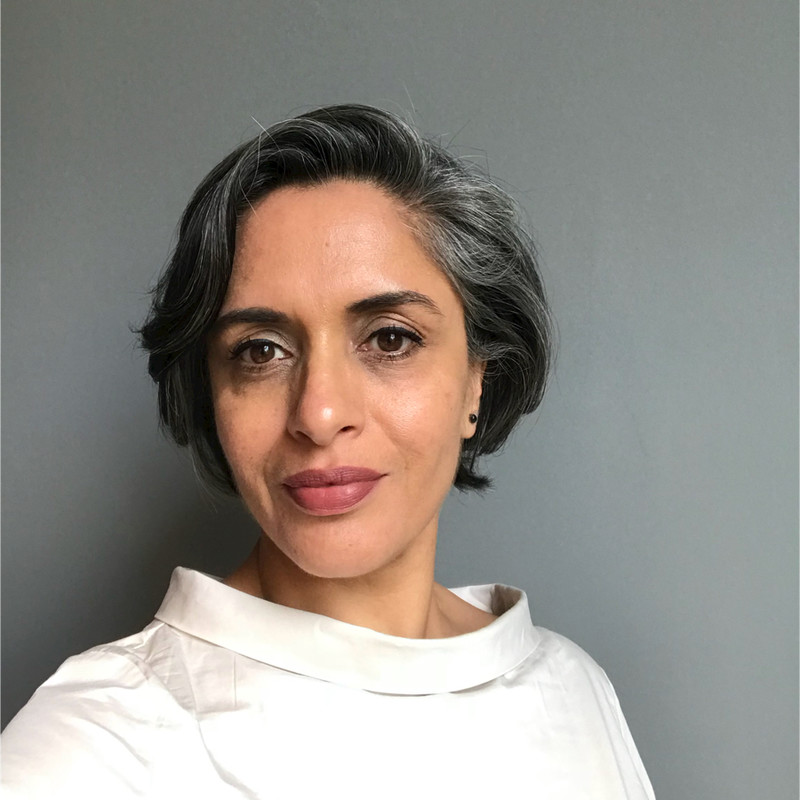 Nina Jane Patel – Co-Founder, VP of Metaverse research at Kabuni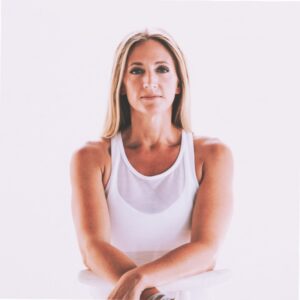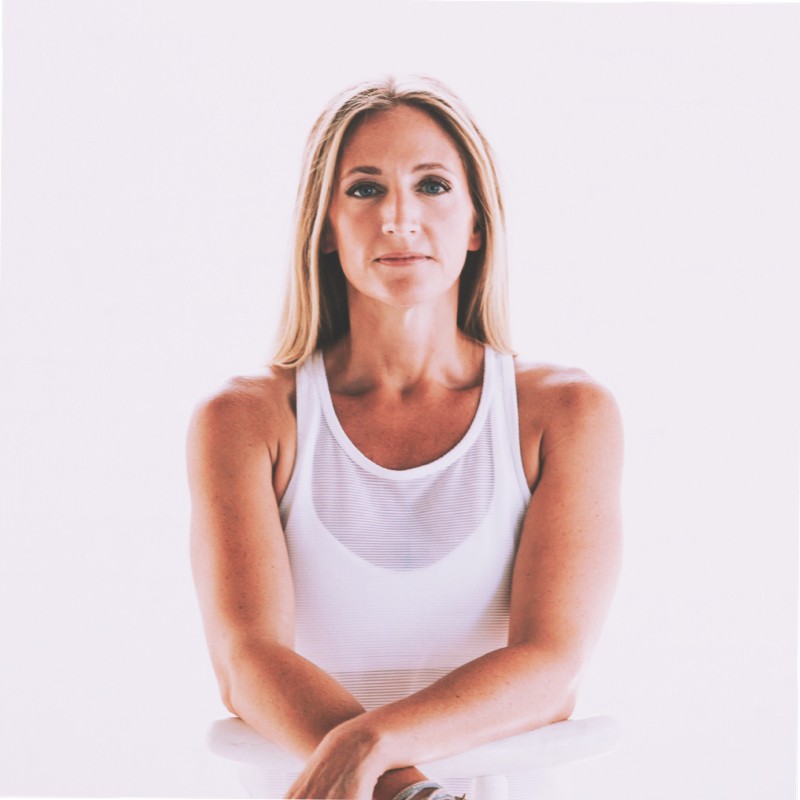 Nina Jane Patel is the co-founder and VP of Metaverse Research for Kabuni – on a mission to unlock the design potential in every child, and elevate life. We are dedicated to providing the safest space in the Metaverse for kids aged 8-16 to LEARN, GROW & EXPLORE – within a classroom environment and at home. Designed for children to improve retention, engagement, speed, and health – based on our unique, evidence based methodologies.
A board registered Movement Psychotherapist and a fellow with the RSA, ISPA, and APAP, Patel is a doctoral scholar and received the Wilkie Calvert Scholars award – "Unlocking the Potential of Immersive Experiences for the Future of Human Society: Investigating the physiological and psychological impact of the Metaverse."
Working at the intersection of culture, mental health and technology and an advocate for safe, responsible innovation – Nina has generated innovative projects, programs, exhibitions and consultations to consider how exponential technologies will alter representational forms of human interaction and behaviour in the near future. Considerations of the body and human interaction within intercultural, intergenerational and interdisciplinary explorations of a near future of collaborations co-existing with AI, avatars, immersive worlds, telepresence and real-time presence within creative places, cultural environments, interactive entertainment and play spaces and its cumulative impact. Recognised as a Global Innovator by the World Economic Forum (WEF). In 2022, Nina was commissioned by the Canada Council for the Arts, Greenhouse Digital, for new research investigating creativity, movement and self-expression in the Metaverse. Considered cutting-edge in her field, and a thought leader on the implications of safety, psychology and physiology of human interaction in the Metaverse, Nina has been featured in Financial Times, India Times, CNBC, Newsy, British Vogue, Glamour Magazine, USAToday,The Guardian, The Independent, NewsWeek, and more.
Who will I meet?
This event is perfectly suited to those that are mid to senior level professionals including business owners or those in C-Suite and managerial positions.
Whilst the content for this event is finance & tech focused, individuals from other industries are welcome to join.
We also welcome all genders to join our events to support our initiative in empowering women in the workplace.
About the venue Home Grown:
Home Grown is a private members' club that provides entrepreneurial pioneers with unique resources to unlock the true value of their business potential. It is a global community of experienced  entrepreneurs, sophisticated investors and trusted advisors. Home Grown also features fabulous bedrooms designed by Russell Sage Studio, a bar and a restaurant with a focus on seasonal, locally sourced ingredients from independent premium suppliers.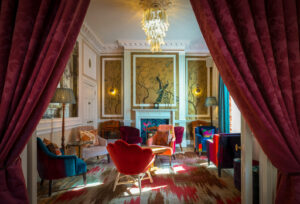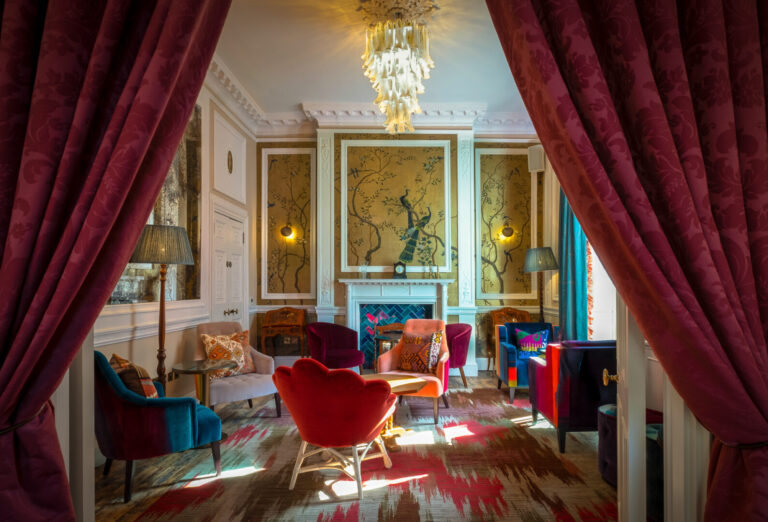 Tickets:
Full day pass: £80 (includes access to the event from 3pm-9pm including all panel discussions, teas, coffees and light refreshments, 2 course dinner and drink on arrival)
Half day pass: £48 (Entrance from 3pm-6:30pm including all panel discussions, teas, coffees & light refreshments)
Dinner only: £59.95 per person (Entrance from 6:30pm-9pm including a 2 course buffet style dinner and drink on arrival)
*Modern Woman Sapphire & Emerald Members Discount: 20% off* please login to retrieve your discount upon checkout.
Please note: If you are a coach, all spaces are now full for us to welcome anymore coaches so we kindly ask that you don't purchase a ticket UNLESS you are an existing member or part of our coach & mentor matching platform. This is simply to reduce too much competition between others in the room.
Thank you for your understanding. 
*NB Covid-19 Disclaimer*
The safety and wellbeing of all our guests is our priority and this event will be hosted in-line with Covid-19 government guidelines.
If this event needs to be postponed then tickets will be transferable to a later date or refunded.