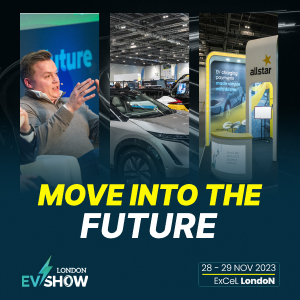 London EV Show – 28th – 30th November 2023
The London EV Show
28th – 30th November 2023
ExCeL, London
Only a month left! London EV Show 2023 Gears Up to Electrify ExCel with Global Participation, Cutting-Edge Exhibition & Impeccable Insights 
October 31, London: The countdown for the London EV Show has begun with only a month left until the doors to the event are open.
In its third edition, this show, scheduled on Nov 28 – 30, 2023, at ExCel London, UK,  promises to unite a dynamic and global audience of over 10,000+ participants. Enthusiasts and experts from all corners of the world will converge for an engaging and diverse experience.
Retaining its distinction as the largest EV event in London,  the show 2023 will feature a comprehensive programme of keynote speeches from topnotch speakers, panel discussions and Q&A sessions providing participants with valuable insights into the latest trends and developments in the EV industry. The diverse topics slated for discussion on the show include: The United Kingdom & Global EV Outlook, Electrification of Global Transport System, Shaping the EV industry with Revolutionary Technology Trends, Micro Mobility & The Future of Urban Transportation, EV Charging Infrastructure, Network and Payment Systems, Global Battery Market Analysis, Challenges and Solutions, Trends in EV Adoption, Smart Charging Solutions, Fostering EV Startups, Investment Opportunities in EVs, and Envisioning the Future of the Ev Sector.
The Show has confirmed speakers from the Department for Transport, Deputy Minister for Climate Change, Welsh Government, National Infrastructure Commission, NHS England & NHS Improvement, SAE International, World Economic Forum, Oxford City Council, etc. See Full Speaker Line Up
Contact Details:
Name: Madhiya Nabi
PR and Communications Manager
Phone Number: 44 2032878878
Email Address: madhiya.nabi@valiantbmedia.com
Next Event
Date

Dec 12 2023

Time

10:00 am - 11:00 am