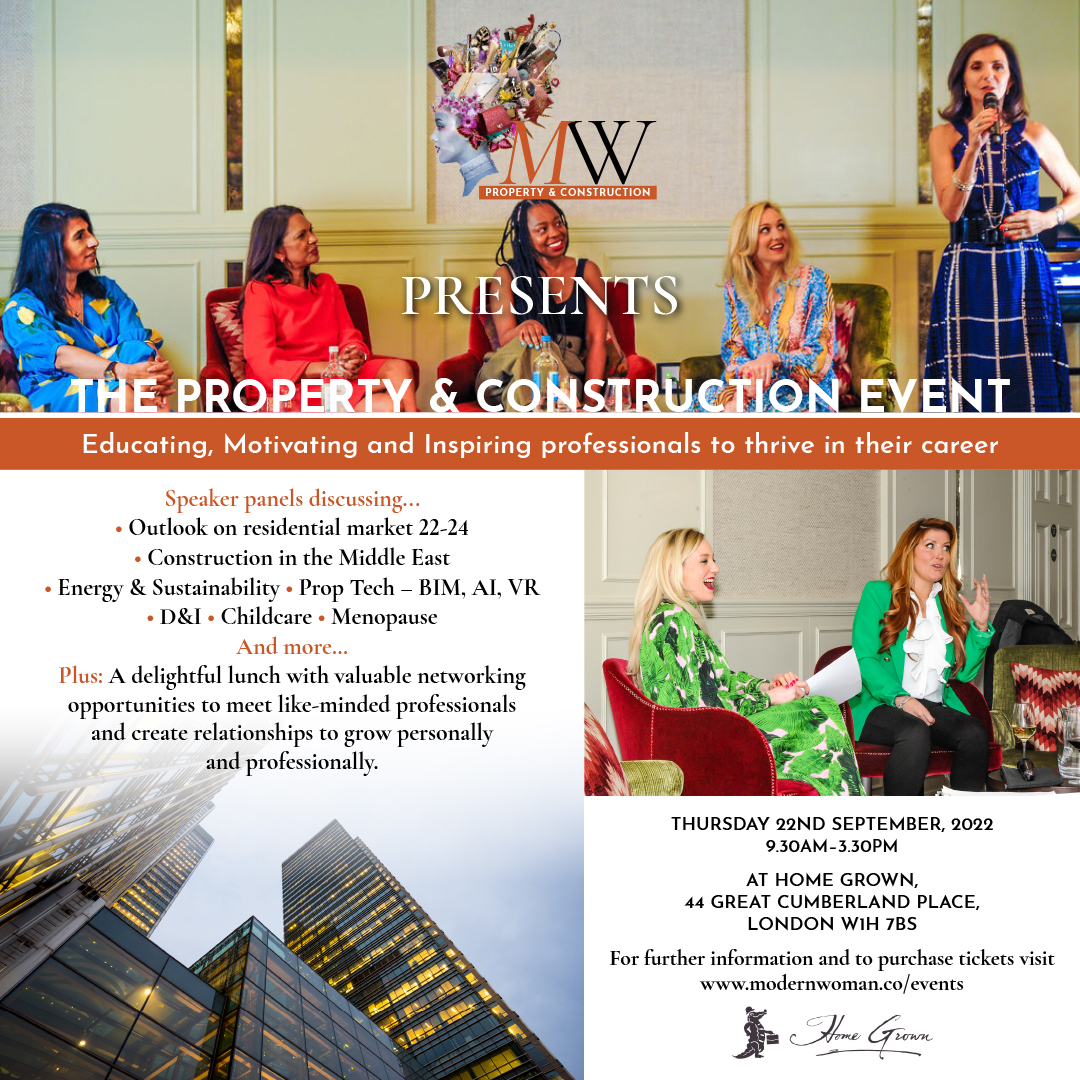 Modern Woman Property & Construction Event – 22nd September
Modern Woman
PRESENTS
The Property and Construction Event
Thursday 22nd September

, 2022
9:30am-3:30pm London time
At: Home Grown, 44 Great Cumberland Place, London, W1H 7BS
(5 mins from Marble Arch station)
Coming back with a bang after the summer, we're warming up September with this show-stopping industry event as we host an array of informative and captivating panel discussions around some of the hot topics of property and construction.
We'll also be hosting a delightful lunch with valuable networking opportunities to meet like-minded professionals and create relationships to grow personally and professionally.
.
Agenda for the event:
– 9:30am-10am: Guests arrive / networking
– 10am-12:45pm: Panel Discussions as follows:
10am-10:45am:  Panel 1: Residential outlook – Are we heading for a dip?, What the market is looking like for 22/23, Energy and sustainable living
11am-11:45am: Panel 2: Diversity & Inclusion – Menopause, parenting & childcare, how to find the ideal coach or mentor
12pm-12:45pm Panel 3: The Future of property & construction – Construction in the Middle East & Saudi Arabia, Opportunities for 2030, Prop tech – BIM/AI/VR
– 1pm-3:30pm Lunch, Guest Speaker & Networking as follows:
1pm-1:30pm: Lunch guests arrive, networking & drink on arrival
1:30pm-3:30pm: Sumptuous buffet style lunch alongside networking
Speakers TBC
Who will I meet?
This event is perfectly suited to those that are mid-career to senior level professionals including business owners or those in C-Suite and managerial positions.
Whilst the content for this event is property & construction focused, individuals from other industries are welcome to join.
We also welcome all genders to join our events to support our initiative in empowering women in the workplace.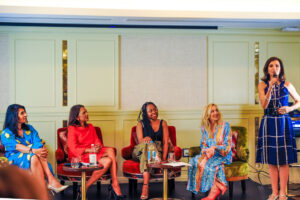 What our guests had to say about our previous P&C event:
'The calibre of your event – both in terms of venue/cost/speakers and attendees was top notch – It has been literally years (thanks covid!!!) since I have attended any kind of networking event and it was such an enjoyable experience – thank you'
'Can I just say yesterday was an awesome event and it was your staff and yourself that made it such a success'
'The event was great and extremely enjoyable. I would definitely be keen on joining similar events in the future.'
About the venue Home Grown:
Home Grown is a private members' club that provides entrepreneurial pioneers with unique resources to unlock the true value of their business potential. It is a global community of experienced  entrepreneurs, sophisticated investors and trusted advisors. Home Grown also features fabulous bedrooms designed by Russell Sage Studio, a bar and a restaurant with a focus on seasonal, locally sourced ingredients from independent premium suppliers.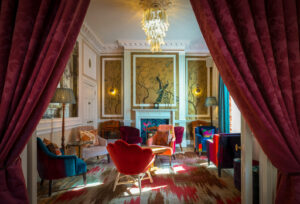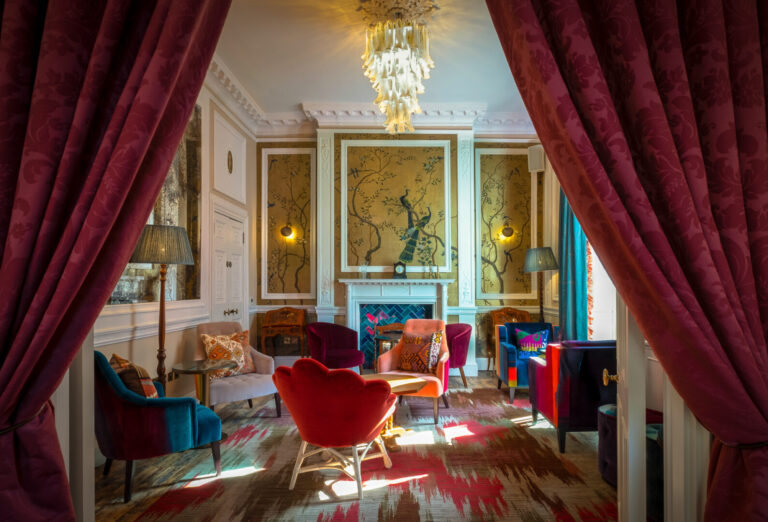 Tickets:
Full day pass: £85 (includes access to the event from 9:30am-3:30pm including all panel discussions, teas, coffees and light refreshments and lunch meal and drink on arrival)
Half day pass: £48 (Entrance from 9:30am-12:45pm including all panel discussions, teas, coffees & light refreshments)
Lunch only: £59.95 per person (Entrance from 1pm-3:30pm including a delicious lunch meal and drink on arrival)
*Modern Woman Sapphire & Emerald Members Discount: 20% off* please login to retrieve your discount upon checkout.
*NB Covid-19 Disclaimer*
The safety and wellbeing of all our guests is our priority and this event will be hosted in-line with Covid-19 government guidelines.
If this event needs to be postponed then tickets will be transferable to a later date or refunded.
Next Event
Date

Oct 04 2022

Time

10:00 am - 11:30 am