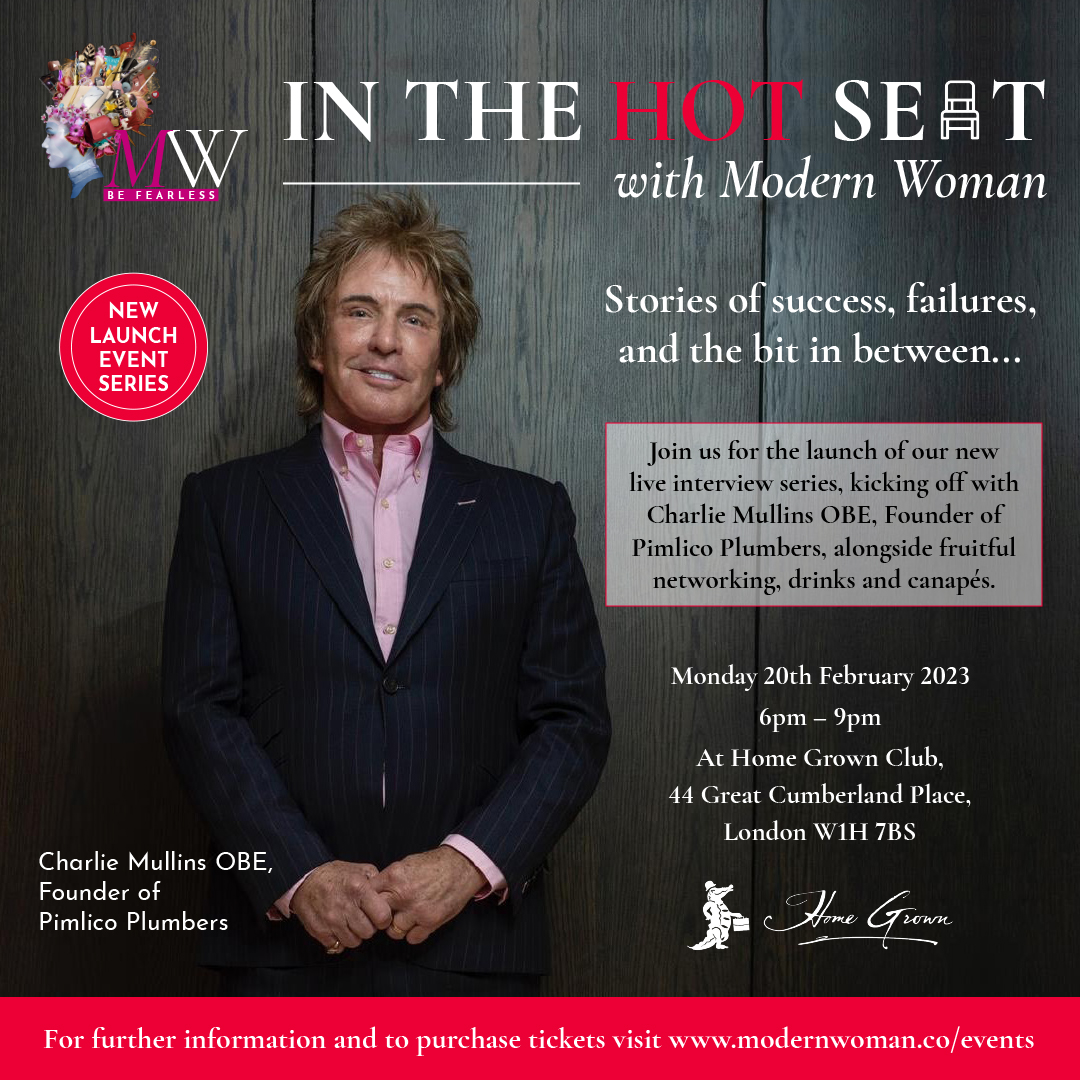 In the Hot Seat – Interview & Networking – 20th February
Modern Woman
PRESENTS
In The Hot Seat
Monday 20th February 2023
6pm – 9pm
At: Home Grown Club, 44 Great Cumberland Pl, London W1H 7BS
Drawing inspiration and learning from others' experiences broadens our horizons, and lets in fresh perspectives creating a renewed zest of energy! 
Here enters our new series 'In the Hot Seat', showcasing real life stories of high profile business owners, entrepreneurs and professionals as they share their successes, failures and the bit in between. 
Set as an in-person live interview Q&A style, you'll also be able to enjoy lots of fruitful networking with like-minded individuals, delicious canapés & drinks and have the opportunity to meet our special guest on the evening too!
Kicking off the series, we're excited to be delving into the life of someone who built themselves from the ground up, Founder of Pimlico Plumbers, and Britans first "millionaire plumber", Charlie Mullins OBE. 
Special Guest Speaker: Charlie Mullins OBE – Founder of Pimlico Plumbers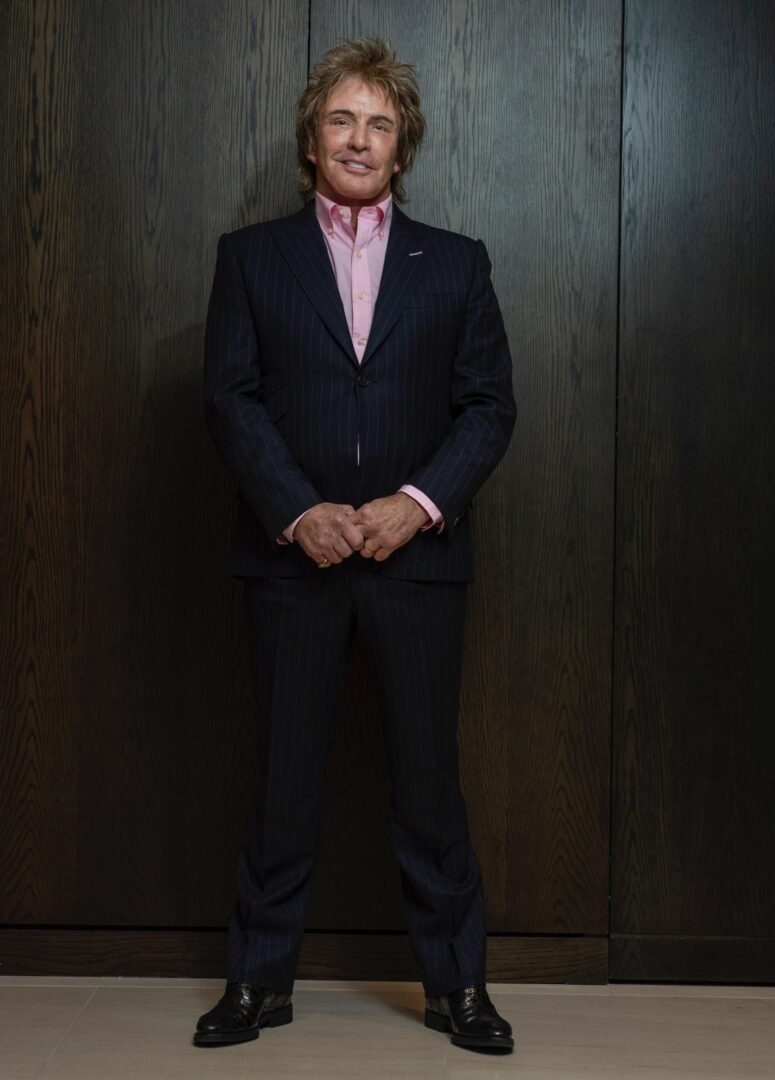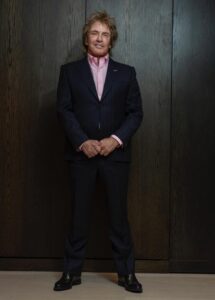 Former plumbing apprentice Charlie Mullins OBE is the archetypal entrepreneur having started a business from scratch and building it into a multi-million-pound enterprise, which he sold in 2021 for more than £120m.
Outspoken and often controversial, Charlie has starred in Channel 4's 'Secret Millionaire', 'Show Me Your Money' and the BBC's 'Young Plumber of the Year' programmes. Most recently he's featured in Channel 4's 'How'd You Get So Rich' with Katherine Ryan and Micky Flanagan's 'Thinking Aloud' on Sky 1. Charlie is also aregular business commentator in the national media. He most recently appeared, with his fiancé, singer/songwriter Raquel Reno, on BBC1 series Unbreakable.
Launched by Charlie in 1979 with just a bag of tools and a very old van bought at auction, Pimlico Plumbers has more than 300 professional trades people (including plumbers, carpenters, electricians, roofers, builders and locksmiths) and a support team of around 130 staff serving customers across London including some of the world's most famous names including Simon Cowell, Dame Helen Mirren, Joanna Lumley, Joan Collins, Keira Knightly, Daniel Craig and Richard Branson to name but a few.
Charlie sold the business to US-based Neighborly, which is the world's largest franchisor of home services, in 2021.
Charlie is strongly focused on apprenticeships and is a firm believer in giving young people a chance to develop their skills, in order that they reach their true potential.
He was awarded an OBE for services to plumbing in the 2014 Queen's New Year's Honours and his autobiography, Bog Standard Business was published in 2015.
This interview will be hosted by our founder, Rosie Coxshaw where Charlie will be discussing the nitty gritty of how he built Pimlico Plumbers, selling up and what's coming next!
About the venue Home Grown:
Home Grown is a private members' club that provides entrepreneurial pioneers with unique resources to unlock the true value of their business potential. It is a global community of experienced  entrepreneurs, sophisticated investors and trusted advisors. Home Grown also features fabulous bedrooms designed by Russell Sage Studio, a bar and a restaurant with a focus on seasonal, locally sourced ingredients from independent premium suppliers.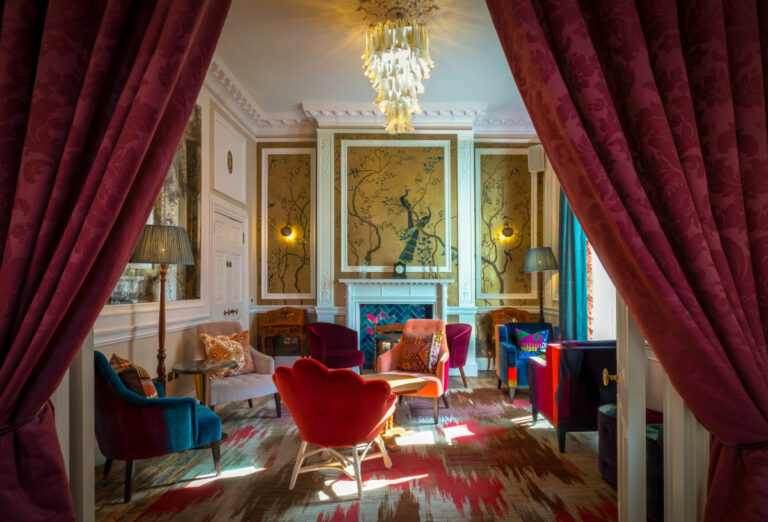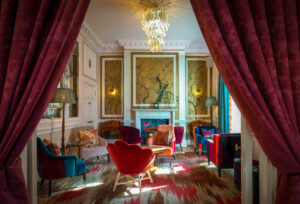 Tickets:
All tickets include drinks on arrival, canapés, networking and live Q&A interview
Members (Rose Quartz, Sapphire & Emerald members): £20
Non-members: £35
Please note: If you are a coach, all spaces are now full for us to welcome anymore coaches so we kindly ask that you don't purchase a ticket UNLESS you are an existing member or part of our coach & mentor matching platform. This is simply to reduce too much competition between others in the room.
Thank you for your understanding. 
*NB Covid-19 Disclaimer*
The safety and wellbeing of all our guests is our priority and this event will be hosted in-line with Covid-19 government guidelines.
If this event needs to be postponed then tickets will be transferable to a later date or refunded.
Next Event
Date

Apr 04 2023

Time

10:00 am - 11:00 am