How to raise finance in unsettled times
August 11, 2020 6:00 pm
£0
DESCRIPTION
Modern Woman in Tech
PRESENTS
How to raise finance in unsettled times
The global gender pay gap won't close until 2186. And despite some efforts in the UK to address our 17.3% pay gap – mandatory pay gap reporting was introduced in 2017 – the UK is the world's 15th gender-equal country. COVID-19 has worsened this: the UN and World Economic Forum warn that the pandemic could set women's economic progress back 50 years. And it's only been 50 years since the UK's Equal Pay Act.
As a career woman with the odds stacked against you, and domestic or care duties unfairly on your shoulders, how can you best safeguard your finances from the economic fallout of the pandemic? 
Join our panel talk and be empowered to take control. 
Our expert panelists will discuss:
– the gender pay gap across employed, self-employed and small business sectors
– how the gender gap has been widened by the COVID-19 pandemic
– how to safeguard your career or business during unsettled times
– how to raise finances in a difficult economic climate
– how to have more candid conversations about money and wages
– how to protect your finances as we move forward together
They'll dip into their wealth of knowledge to provide advice and support as we enter a new economic landscape.
 Our Panelists: 
Anne Boden– Founder & CEO of Starling Bank 
After a distinguished career working in senior leadership at some of the world's best-known financial heavyweights, among them Allied Irish Banks, Royal Bank of Scotland and ABN AMRO, Anne set out to build her own bank from scratch in 2014: Starling, a digital bank targeting millions of users who live their lives on their phones. A computer scientist by training, she worked with the team at Starling to build a banking app loaded with smart money management tools that would help customers control their finances and track their spending and saving in real time. Starling also has a Marketplace, allowing customers in-app access to a curated selection of third-party financial services and has a ground-breaking B2B business offering payments services and banking-as-a-service. 
Today Starling has more than 1.4 million customer accounts and holds over £2 billion on deposit. It was voted Best British Bank in 2018, 2019 and 2020 and Anne was awarded an MBE for services to financial technology in 2018.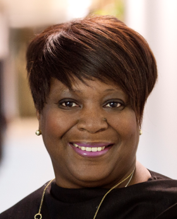 Dr Heather Melville – OBE, Director and Head of Client Experience for PwC
Heather has 40 years' experience working in the City and over 20 years' experience covering global client relationships across FTSE 100-250 companies. Heather partners with local government agencies and industry specialist forums to support the growth of entrepreneurial businesses and was awarded an OBE in 2017 for her services to business and gender Equality. She was recognised as one of the top 100 Women in Business by Upstanding in 2018 and listed on the Financial Times' 100 Executive BAME Power List in 2016 and 2017, among many other awards. She established the RBS women's network, is a patron to Women in Banking and Finance (WIBF), and sits on the board for Chartered Management Institute (CMI), leading CMI women. 
Heather is  also a career coach and mentor, working asa Non-Executive Director for Enterprise Enfield – a business consultancy funded by the Government to help young entrepreneurs start small businesses.
Elizabeth Marvan – President of Rhisco Group
An entrepreneur, technology businesswoman and consulting professional specialising in digital transformation, Elizabeth has a record of success in advising strategic transformations for clients, designing solutions for risk and compliance, and executing risk technology implementations, independent reviews and audits. She was named CEO of the Year 2018, FinTech London by CEO Monthly magazine and previously held the positions of senior risk management external consultant for IFC, Director of Sell-side solutions for IBM' risk technology solutions and Audit Manager for Citigroup. 
Elizabeth has significant technical experience, sound understanding of new technologies like artificial intelligence and graph analytics, and deep understanding of risk modelling and analysis acquired throughout her 24-year career in risk roles internationally and over 12 years in technology.
Clare Seal – 'Finfluencer' and author
When Clare Seal reached what seemed like a breaking point in her relationship with money in spring 2019, she turned to Instagram to make herself accountable, posting anonymously about her journey out of debt as @myfrugalyear. She immediately struck a chord, and in just one year found a following of 60,000 people, her posts offering advice and solidarity to a growing community of people in a similar situation. A new voice on the finance scene, Clare has already been sought out by the Telegraph, Huffington Post, Grazia and Hello! Magazine to give her opinion on topics relating to debt, money and the challenges facing millennials. 
Clare Seal is a working mother of two, and lives with her husband and children in South West England.
 Tickets are available via Eventbrite and we are welcoming donations based on what you feel is a fair contribution at this time. Suggested contribution between £5-£10pp
Once tickets have been purchased you will receive access details to Zoom.
We look forward to welcoming you!
The MW Team
DATE AND TIME
August 11, 2020 6:00 pm -
August 11, 2020 7:30 pm
LOCATION




United Kingdom
COST
£0
REFUND POLICY